Lakewood Chamber Of Commerce Hosts 7th Annual Holiday Online Auction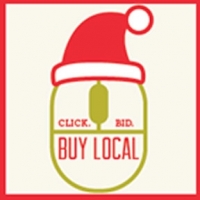 Would you like to win Cavaliers, Indians, or Beck Center tickets? Would you like to give the gift of Angelo's, Around The Corner, Georgetown, Cleveland Vegan, or Jammy Buggars to people on your holiday shopping list? Would you like to be the lucky winning bidder of a 'Geek Basket' filled with games, comics, and sci-fi items? If the answer to any of these questions is yes, then the Lakewood Chamber of Commerce's 7th Annual Holiday Bid & Buy online auction is one place where you should "shop local" this holiday season.
Avoid the slush and the rush! Shop from the comfort of your own home through December 9th for locally donated items, services, and unique experiences via the Holiday Bid & Buy online auction. Not only is it an easy way to shop, it's also a great way for the Chamber to highlight the generosity of our donors and sponsors, promote local businesses with weeks of inexpensive online advertising, and raise funds for the Chamber's economic development programs.
Last year's auction attracted bidders from throughout Northeast Ohio and from coast to coast, from Seattle WA to Baltimore MD, so don't be left out in the cold! Check out the variety of locally donated items – Sweet Designs chocolates, homemade holiday cookies, clothing from Paisley Monkey and GV Art + Design – even a Lakewood Rangers stadium seat – all in one place: the Lakewood Chamber of Commerce's Holiday Bid & Buy online auction! To donate an item, bid on items, and to become an auction 'Star', 'Mistletoe' or 'Jingle Bell' sponsor visit www.biddingforgood.com/lakewoodchamber.
Special thanks to these auction Star Sponsors: Cleveland Home Title, Fizz Creative and COSE/Council of Smaller Enterprises.
Read More on Business News
Volume 11, Issue 24, Posted 3:38 PM, 11.24.2015