Lakewood Music Boosters Present The First Annual Lakewood Festival Of Music Oct 17th 1-8 PM At Vosh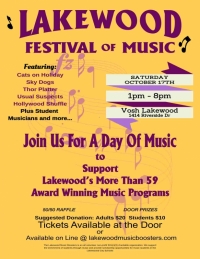 Lakewood Music Boosters is proud to present the first annual Lakewood Festival of music on Saturday October 17, 2015 from 1-8 p.m. at Vosh in Lakewood. The festival is an all day family fundraising event meant to support, celebrate, and showcase some of the 59+ musical groups and activities available to the students of Lakewood City Schools.
Lakewood Music Boosters would like to invite the community to share in the festivities and help support our mission. We support the enrichment of students through music and provide scholarship opportunities for music students in the Lakewood City Schools.
Lakewood Festival of Music will showcase student performances as well as several celebrated local bands including Cats on Holiday, Sky Dogs, Thor Platter, Usual Suspects, and Hollywood Shuffle. Tickets are $10 for students and $20 for adults and are available online at our website lakewoodmusicboosters.com or by calling Tracey Logan at 216-973-3004.
"This is an exciting new addition to our fundraising efforts," said Beth Bender Thomas, 1st VP of Lakewood Music Boosters. "Lakewood Music Boosters does so much to support our students, teachers, and community and we look forward to celebrating with them."
Please join us for this inaugural event at Vosh. The Magic Man, a balloon bender, will be at the membership table from 1-3pm. There will also be a 50/50 raffle and door prizes. This is sure to be a popular event, buy your tickets now!
EM Thomas
Beth Bender Thomas, Citizen
bethbenderthomas@gmail.com
216-374-7615
Read More on Foodwood©
Volume 11, Issue 21, Posted 4:17 PM, 10.13.2015