My Commitment To Lakewood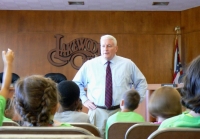 Dear Lakewood Residents,
Serving our community as the mayor of Lakewood is the most important job I've ever had. It is a job to which I have given my all. It is not a stepping-stone. I have no ambition for any other office and politics is not my career. I serve as mayor because I love Lakewood.
In the last few years, Lakewood has made hard choices that are producing transformational results. As a community, we took on our school infrastructure and decided to create a new environment that suited the changing needs of our students. Our buildings had stood for decades, but changing technology and student needs meant it was time for Lakewood City Schools to prepare for their second century.
I grew up attending Lakewood City Schools, and watched as my children attended their first days of Elementary, Middle and High School as proud Rangers. As the schools they attended came down, I couldn't help but remember those times – their first choir and band concerts, first football games, and final graduation. But, as new schools begin to dot our city, and new children are having new first days in classrooms that meet their needs and begin to graduate with abilities and access to technology and learning that exceed anything I could have imagined, I am hopeful for the future of our city.
Our downtown is burgeoning. As a community, we again made hard choices to redevelop our downtown. We took a bold stance, and have over $80 million dollars in new private investment and 75 new local businesses bringing vibrancy to our downtown. I grew up watching my family run our own small family business close to Lakewood. We too made difficult decisions that transformed our familiar family business into something new and different, with growing pains along the way.
Now is the time to tackle our next difficult decision. In Lakewood, we embrace our diverse citizenship, our changing needs, and our commitment to history. I have said many times that the face of healthcare is changing, and it is. But so are the needs of our community. We are faced with growing populations effected by chronic illnesses, like heart disease, diabetes, and addiction. Our communities need access to the kinds of primary physicians that are equipped with the latest technology in order to tackle these problems. Our love of Lakewood Hospital and its centerpiece of our downtown have served us for a century. Now, it also must prepare for its second century of healthcare. We must invest in a healthcare system that better addresses our community's needs and is financially viable near and long term.
From my time as a councilman, I have been asking questions about the future of Lakewood Hospital. I have addressed Lakewood Hospital's changing finances and patient influx in each and every State of the City address that I have delivered. Lakewood Hospital is close to my heart. From my birth at Lakewood Hospital, to the great care of my father in his last years, this hospital has served my family well. It pains me to watch Lakewood Hospital age as it has. But painful decisions need to be addressed too. Valiant efforts have been made in the past 30 years to shore up our hospital. These efforts are now up against the formidable pressure of a highly competitive local market, and seismic shift of regulations, reimbursement, technology, and medicines.
It is time to be proactive. As a community, we have taken bold stances that have resulted in dramatic and worthwhile progress. Progress is painful, but watching the things you love wither away is more so. It is time for proactive education, proactive development, and proactive healthcare in Lakewood.
There's more work to be done in Lakewood, and I know that with your support, I can continue Lakewood's forward momentum.
Michael Summers
Mayor, City of Lakewood
Read More on Other
Volume 11, Issue 20, Posted 11:29 AM, 09.29.2015