From Lakewood, For Lakewood, And Here To Stay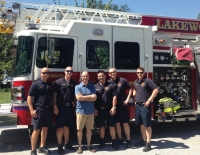 In the September 8th primary, I was privileged to receive nearly 47% of the vote in a four-way race. It was an active primary, and I am very excited to move on to November and to have the continued opportunity to serve the residents of Ward 3. I would like to commend J.T. Neuffer and his supporters for running such a respectful campaign.
The primary was an important step, but I take nothing for granted, and will work very hard the next six or so weeks to meet more of you, to connect, to answer questions, and to be the councilman Ward 3 needs.
From day one, when I announced my candidacy back in January, I said that I would meet as many residents as I could, by getting to as many of your doorsteps as I could. I was very successful in that effort, having gotten to every voter's door in the ward. Since the primary, I am finding the second time through to be even more enjoyable, as conversations are now developing into working relationships with residents. Last week, I even ran into our old mailman from when we lived on Wyandotte!
Ward 3 wants a community leader who will listen carefully, serve their needs first, and who will be there for them now and into the future. I've dedicated my entire career to community service, and I'll devote that same level of commitment and respect to Lakewood residents.
On City Council, I have pledged to:
Improve safety by helping to create a block club on every street in Ward 3, so neighbors know one another, know how to partner with police, and so housing quality in neighborhoods improves;
Strengthen the entire community by serving those most in need. We need to insure that kids have the nutrition necessary to concentrate in school, seniors have wellness visits and are safe in their homes, and families can access preventative health care before a chronic condition becomes a serious disease;
Keep Lakewood sustainable in every sense of the word, so the community is cleaner, greener, and healthier; so its government is financially responsible and lives within its means; and so Lakewood's century homes are well-maintained and can anchor thriving neighborhoods that attract growing families for another 100 years.

I want Ward 3 residents to be on a 'first name basis' with their Councilperson. I have always found that's the best way to serve. I will meet Lakewood residents face-to-face and take a hands-on approach to problem-solving.
I am also proudly endorsed by the Lakewood Firefighters Local #382, and I am committed to maintaining public safety at full force levels, providing our emergency responders with the best training and equipment.
I was born in Lakewood and have been a part of the community throughout my life. I am raising my family here and I have served the community as a resident, volunteer, coach, and father and have worked for more than 15 years professionally as a leader of community service organizations. In short, I am proud to be a part of the fabric of this community, and my goal is to use my Lakewood leadership experience to serve the people of Lakewood. I have no aspirations of seeking higher office beyond serving the people of Ward 3 as its councilman.
I will continue to work diligently for the people of Lakewood into November and beyond. I respectfully ask for your continued support this November 3rd.
John Litten
John Litten is Executive Director of the St. Vincent de Paul Society and lives on Chesterland Ave. with his wife Carrie and their three children. They've been homeowners in Lakewood since 2002.
Read More on
Volume 11, Issue 20, Posted 11:29 AM, 09.29.2015