Lakewood Collaborative Celebrates & Focuses On The Future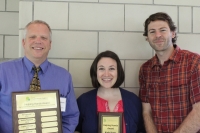 One of the original goals of the Lakewood Family Collaborative was to interconnect our community, linking social service agencies, schools, churches, mental health providers, treatment programs, citizens and any interested entities to one another. This vital connection helped increased the collaboration of participating organizations to better serve individuals and families throughout Lakewood and other western suburbs as well as parts of Cleveland.
At the May end-of-year meeting it was stated that the Collaborative, which serves Lakewood, Cleveland west of West 117, Bay Village, Fairview Park, Rocky River and Westlake, is officially changing its name this summer to ensure it captures its true mission. The name, Lakewood 'Area' Collaborative better reflects the neighbors we serve and the collaboration between those who provide support throughout those communities.
Collaborative Leadership Team
At the May end-of-year meeting, the Collaborative thanked the outgoing members of the Leadership Team. Todd Calaway, outgoing Chair of the Lakewood Family Collaborative, headed our eleven member Leadership Team. Todd, pastor of Crosspoint Church, served two years coordinating the efforts of our group. Bruce Chamberlin is the incoming Chair of the Leadership team. Bruce is an employee of The City of Lakewood and part of the grant funded team of social workers who works with families through the Lakewood Area Collaborative.
Other members finishing their terms on the Leadership Team include Ken Brand of Lakewood Alive, Abby Hanley and Katie Kurtz of the Cleveland Rape Crisis Center. Katie is stepping off the Leadership Team but staying on as Chair of the Mental Health Awareness Committee. All bring skills and talents to the table that truly will be missed.
Members joining the Leadership Team this year include Ellen Ospelt of North Coast Health, Jessica Parker of the City of Lakewood Department of Human Services, Robert DelQuadri of Lakewood City Schools, and Ryan Fisher, pastor of Impact Church.
Other members of the Leadership Team include Toni Gelsomino, City of Lakewood Director of Human Services, Michelle Pellman of the Cuyahoga County Department of Children and Family Services, Laura Jaissle, pastor of Lakewood United Methodist Church, Karen Lee, citizen and community leader, Kathy Augustine of the Cuyahoga County Department of Jobs and Family Services, Jillian Svala of the Council of Neighborhood Leaders, Colleen McNamara of the City of Lakewood's Division of Youth.
Join Us!
September marks the beginning of a new program year for the Lakewood Area Collaborative.
Our September meeting, which is our official kickoff luncheon, will include a complimentary lunch provided by Karen King Catering. We'll meet Thursday, September 24 from 12:30 – 2 p.m. at the Lakewood Park Woman's Club Pavilion. Members and guests are always welcome to bring their own lunch to the meetings. Collaborative meetings are typically held on the fourth Thursday of each month (except for the holiday months of November and December - then the third Thursday) and are held in the Lakewood Park Women's Club Pavilion.
Collaborative meetings include our Spotlight Series highlighting a specific program or issue as well as providing an opportunity for networking, information sharing and connecting with others. Working together as a community makes all the difference to those in need, and makes our work easier and more effectively impacts families.
Focus on Community and Committees
Last May, the Collaborative celebrated the hard work of all of its committees including:
- Job Seekers: supports employment and networking for job seekers
- Mental Health Awareness: In addition to mental health, this committee also addressed the heroin epidemic in our region
- Foster Care/Adoption: celebrates foster and adoptive families as well as recruiting new families
- Ranger 360: addressing healthy relationships for teens and resources for families
- Supplies for Success: connecting Lakewood students with proper school supplies, removing this barrier to learning.
Interested in the goal and purpose of one of these committees? Contact us at 216-529-6868 to become more involved. Your expertise is needed.
The 2015 Helping Hands Award
The 2015 Lakewood Area Collaborative Helping Hands Award was presented to Katie Kurtz of the Cleveland Rape Crisis Center. This award is given for outstanding service to the community. Katie, who chairs the Collab's Mental Health Awareness Committee, received the award due to her incredible leadership, vision, work ethic and attention to detail. She spearheaded the Heroin and Hope event in March, bringing together communities to learn about the serious heroin epidemic and work to reduce the number of opioid fatalities. Katie by far received the most nominations from our community, and graciously accepted the award giving credit to the great people who work with and around her, in collaboration.
Hope to see you at our free luncheon at the Lakewood Area Collaborative Kick-off meeting on Thursday, September 24 from 12:30 – 2 p.m. at the Lakewood Park Women's Club Pavilion!
To learn more about the Lakewood Area Collaborative:
Find us on Facebook! https://www.facebook.com/LakewoodAreaCollaborative
Visit our website for our calendar: http://thelakewoodfoundation.org/lakewood-area-collaborative
Questions? Email us at: lakewoodfamilycollab@gmail.com
Read More on Civic Groups
Volume 11, Issue 18, Posted 1:57 PM, 09.01.2015