JT Neuffer, Just In Time For Lakewood City Council, Ward 3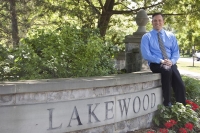 I met JT during the Obama re-election campaign in 2012 when he volunteered to canvass the neighborhood. I was immediately impressed with his passion and ability to relate to people during the campaign. I am proud to support JT Neuffer for City Council Ward 3 because of his strong ability to connect with diverse people, his visionary ideas and his leadership skills.
I continued to stay in touch with JT through the Lakewood Democratic Club and often saw him at community events such as the Community Festival in Madison Park. It was not a surprise to me when I heard he was appointed to serve on the Club's membership committee. JT made a commitment to serve by bringing his enthusiasm, ideas and experience to support the Club.
In 2014, JT and I served together on the Citizens Advisory Commission (CAC). The CAC reviews various proposals from community organizations for federal funds in relation to the needs of the community and provides a recommendation to city council. I noticed during the public meetings JT took his role very seriously. He asked community organizational leaders probing questions and established dialogue to understand their proposals. JT has served on the CAC for the past three years with our best interests in mind.
JT has called Lakewood his home since 2001 and understands the issues and concerns in our neighborhood. He is committed to serving you and your neighbors. He has a strong interest in addressing public safety issues, championing residents or business owner's ideas on how to revitalize Madison Avenue and serving as a liaison for residents frustrated with road conditions and nuisance property issues. He has an MBA from Cleveland State University with experience in marketing, employment and labor.
JT is also concerned about the Lakewood Hospital and the impact it will have on Lakewood families if the facility is closed.
Every day more information about the hospital is learned and he believes more will be revealed in coming months that will assist in planning for the future of health care in Lakewood. From personal experience with his family, he believes it is important that full health care is available for residents and for those who choose care in Lakewood. It is difficult at this time to exactly pinpoint what that facility will look like, but he believes there is a need to be met and will work to fulfill that need.
Recently I have met some of JT's neighbors on Lewis Drive. They informed me in 2008, JT launched and led the Lewis Drive Block Club with some help from his neighbors to establish a neighborhood network focusing on building community, addressing public safety concerns and banding together on poor street conditions. During his leadership, he collaborated with neighborhood police officers and city officials to promptly address our concerns. He served as our advocate and ombudsmen allowing us to achieve successful outcomes, which improved the quality of life for his neighbors. JT participated in the Citizens Police Academy to learn more about their services, challenges and opportunities.
Imagine what JT can do when he represents the entire Ward 3 as City Councilman. We deserve a strong leader who has lived here for a significant amount of time to understand our community issues. He cares about the quality of life in our neighborhood and will represent us with honor and integrity. We need JT's leadership on City Council. Please join me and VOTE for JT, Just in Time for Lakewood, on September 8 in the Primary election.
JT Neuffer can be contacted through electjtneuffer@gmail.com.
Learn more about JT at: www.democracy.com/electjtneuffer
Follow JT on Social Media: www.facebook.com/electjtneuffer or www.twitter.com/electjtneuffer
Maureen Dostal has lived in Lakewood since 1986. She is past president of the Lakewood Jaycees, a member of the Lakewood Democratic Club and a manager in the Mortgage Banking Industry.
Maureen Dostal
Lived in Lakewood since 1986 Past President of the Lakewood Jaycees Member of the Lakewood Democratic Club Manager in the Mortgage Banking Industry
Read More on Features
Volume 11, Issue 18, Posted 4:01 PM, 08.18.2015