Celebrity Softball In Kauffman Park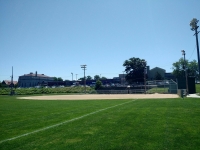 Cheer on your favorite local businesses as they face off at Kauffman Park's Jimmie Foxx Memorial Baseball Field, Sunday, August 30, 2-6 pm. This free event includes food for purchase and children's activities. Try your hand at bike polo with the Cleveland Bike Polo club at the tennis courts, and make a promise at the wall provided by "Because I Said I Would."
Lakewood's own Julie Warren will sing the national anthem. The festival will end with the Sokol Aerial Circus, who will perform daring drops, dizzying spins, and audacious grace high, high, high up in the air on silks, lyra, stilts, and hoops in singles, doubles, and triples. This family-friendly show is filled with comedy, beauty, and many moments that will take your breath away!
Thank you to the following sponsors who have shown their love for Kauffman Park: Beat Cycles, LakewoodAlive, Patton Painting, Deagan's, The Einhouse Family, Great Finds in Lakewood, Humble Wine Bar, Lakewood Chamber of Commerce, Maria L. Shinn LLC, Ross Beverage, Slife Heating and Cooling, and Because I Said I Would.
All proceeds from the event, hosted by Kauffman Park Friends, benefit continued improvements to Kauffman Park, Lakewood's largest downtown green space. Kauffman Park is located at 15450 Detroit Avenue behind Discount Drug Mart. See the Master Plan at www.kauffmanparkfriends.org.
Businesses! Last call to enter a player and show Lakewood your commitment to our parks. Sponsorship levels range from $100 to $1,000. To participate, mail a check to The Lakewood Foundation (memo line: KPF), 16024 Madison Ave., Lakewood, OH 44107, or contact Missy Toms at dmtoms@sbcglobal.net.
Read More on Non-Profit
Volume 11, Issue 18, Posted 4:01 PM, 08.18.2015