Why I Believe In Mayor Mike Summers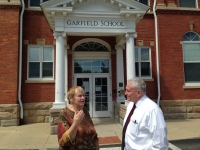 I served with Mike Summers during his eight years on the Lakewood Board of Education. Throughout our years of civic interaction, I have come to respect his integrity, his diligence and his ability to see the big picture. Mike studies the issues carefully.
He is a good listener, and always mindful of his constituents. On the school board, he made key contributions to the difficult discussions regarding the district`s finances and he was instrumental in the process that led to the Fifty Year Committee and the district's plan to replace or restore all our buildings.
Mike worked well with his colleagues on the board and contributed significantly to solving problems and setting strategic goals. Mike's experience and knowledge of the schools has promoted school-city cooperation during his time as mayor, saving taxpayer dollars. Mike is a sound city manager. As Mayor, he has balanced the city's budget, resolved employee contract issues, and negotiated a fair agreement with the EPA regarding our aging storm sewers and environmental issues.
I want to encourage Lakewood citizens to turn out to vote for Michael Summers in the general election this fall.
Linda Beebe
Linda Beebe
Attorney At Law
31 year Member, Lakewood Board of Education
Read More on
Volume 11, Issue 15, Posted 4:30 PM, 07.21.2015