Updates From The LEAF Community!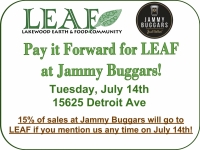 Pay it Forward for LEAF at Jammy Buggars!
As part of Jammy Buggars' ongoing Pay it Forward program, 15% of every sale (including purchases at the bar, dine-in and take-out food, gift cards, and merchandise) will be given to LEAF on Tuesday, July 14th. Just stop in to Jammy Buggars anytime that day (11 a.m. to midnight) and mention that you're there to support LEAF!
Backyard Biodiversity with the Cleveland Metroparks
Also on July 14th, LEAF will be holding another of its monthly educational events. While you're at Jammy Buggars, head into the side party room at 7 p.m. and join us for a talk on backyard biodiversity with Bethany Majeski. Bethany has been a Naturalist with the Cleveland Metroparks for eight years and enjoys gardening and homesteading in her spare time.
One of the best ways to enhance the sustainability of your property and neighborhood is to bolster your biodiversity. Learn how incorporating native plants and wildlife habitat into your yard and garden can increase plant health and yield, reduce erosion, combat storm water run-off, and preserve Ohio's natural heritage.
As always, this LEAF educational event is free and open to the public, but we do recommend RSVPing on our Facebook page (https://www.facebook.com/groups/leafc/events/)!
Learning Garden Family Friday
Enjoy the Madison Branch Learning Garden (co-managed by LEAF and the Library) with stories, songs and activities about vegetables, fruits, flowers and good things to eat! The Friday morning Family Weekend Wonders program will be held in the Learning Garden, weather permitting. Fridays through August 28 at 10:30 a.m. in the Madison Learning Garden.
LEAF Night Community Farmers' Markets
Join us Thursdays through October from 5:30-8 p.m. in front of the Main Branch of the Lakewood Public Library (15425 Detroit Ave.) for a weekly celebration of local food. We host multiple CSA programs and a number of local vendors offering vegetables, baked goods, dairy products, grains, and handcrafted items. We proudly accept EBT/Ohio Direction Card and offer the "Produce Perks" program of the Cleveland-Cuyahoga County Food Policy Coalition -- Ohio Direction card holders get buy-one, get-one-free market tokens to spend on produce at the market. Visit the Customer Service table at the market to learn more!
Read More on LEAF Community
Volume 11, Issue 14, Posted 3:05 PM, 07.07.2015