Lakewood Democratic Club Annual Summer Supper And Fundraiser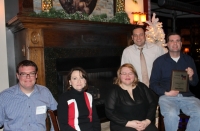 The Lakewood Democratic Club is preparing for its Annual Summer Supper to be held at the Gardens at the Clifton Club, 17884 Lake Rd. in Lakewood. The event will be on Wednesday, July 22nd from 6-9 p.m. For over forty years, the Lakewood Democratic Club has supported the ideals of the Democratic Party by providing energizing speakers at every meeting including our elected leaders from State, Federal, County and City government, nonpartisan groups such as Policy Matters Ohio, NARAL Pro-Choice Ohio, AFL-CIO and Mr. PG Sittenfeld, Candidate for US Senate. The funds raised from this annual event supports the efforts for the upcoming election and club operations for 2016.
The supper is open to members and nonmembers of the Lakewood Democratic Club. Tickets can be purchased before July 19th for $50 and $75 after the deadline through the website www.lakewooddemocrats.com. The supper will include either BBQ chicken or vegetarian meal, door prizes, auction items, good company and summer fun!
Debra Sweeney
Lakewood resident and 15 year member of the Lakewood Democratic Club.
Read More on Civic Groups
Volume 11, Issue 14, Posted 3:05 PM, 07.07.2015