Continuing A Relentless Focus On Growth, Safety And Service, Summers Seeks Re-Election As Mayor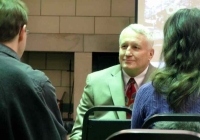 During the past five years, Lakewood has become a desired destination for Millennials and empty-nesters alike — and everyone in between. Property owners have spent $10 million in each of the past two years fixing up their homes and buildings.
There's been more than $100 million in commercial development investments since 2011 — that doesn't even include the schools construction.
The city has significantly improved infrastructure, including parks, streets, bike infrastructure and sidewalks.
Lakewood is in the best financial shape we've been in years, as measured by our robust financial reserves. The public safety forces remains solid, focused, well led and well equipped.
Was this all by accident or the strategic design of solid leadership?
"I stand behind my record, knowing confidently that Lakewood is a better place than it was before I took office," said Mayor Michael Summers, who recently announced that he's running for a second term as Lakewood's mayor.
"However, there is more good work to be done."
Summers said that during the past five years, he's focused on the following items:
1) Customer-driven governing: The city has a customer-focused work culture that believes in continuous improvement.
2) Doing more with less: The city has invested in our processes and leveraged technology to deliver more service with fewer resources.
3) Commercial development: The city features more vibrant commercial corridors providing local entertainment options and amenities to support everyday life and lifestyles.
4) Housing: The Summers administration has focused relentlessly on housing and its maintenance and improvement.
5) Public safety: Under Summers' leadership, the city has improved enforcement strategies — from an increase in our safety forces to additional training, and to the installation of video cameras at our parks.
6) Living within our means: The city has made focused and disciplined cost reductions without increasing taxes.
7) Beautifying the city: Lakewood has invested thoughtfully to add to its attractiveness, protect our health and provide economic stability long into the future.
8) Faced the realities of our challenges: Summers has addressed challenges, from legal threats to state budget cuts to the housing crisis, in a measured and effective manner. Front and center is his leadership responding to the threat against Lakewood Hospital's viability and the vitality of our downtown district caused by deteriorating inpatient volumes.
9) Improved communication: Summers has redoubled efforts to communicate to our citizens effectively in an increasingly fragmented world of print, broadcast and electronic formats.
"If given the opportunity to continue to serve as mayor of this great city of Lakewood, I would continue to focus on these strengths," said Summers. "My strongest case for re-election is that I have governed well. I have poured my heart and soul into my responsibilities as mayor. I am not doing this because I am a career politician or to find my next job in politics."
"I am doing this because Lakewood is my home, my children's home, and my passion."
Mayor Mike Summers was appointed by City Council on January 2, 2011 to fill the unexpired term of Ed Fitzgerald, who had been elected to the post of Cuyahoga County Executive. With a stamp of approval from the voters, Mayor Summers was elected to a full term in November of 2011. As mayor, Mike Summers has served on the board of directors for the Northeast Ohio Areawide Coordinating Agency and as an active member of the First Suburbs Consortium.
Prior to becoming mayor, Mike Summers was elected to Lakewood City Council in 2007 to represent Ward 3. He also served eight years on the Lakewood Board of Education, including service as president in 1999 and 2003. In addition to his public service, Summers also has a long history as a community volunteer.
Mayor Summers owned, and was president of, Summers Rubber Company for 32 years. Under his leadership, Summers Rubber grew to a company with 60 employees and eight branch locations.
Mayor Summers is a graduate of Lakewood High School, class of 1972. He earned an MBA from Northwestern University's Kellogg School of Management, and a B.A. from Wittenberg University, Springfield, Ohio.
Want to get involved with the campaign? Mayor Summers is hosting a Campaign Volunteer Meet & Greet at the Kiwanis Club Pavilion at Lakewood Park at 5:30 p.m. Thursday, June 25. We're also looking for volunteers to march with the mayor in the Fourth of July Parade. Sign up to walk in the parade, pick up your T-shirt, and say hello. For more information, check out "Mayor Mike Summers" on Facebook.
Call 216-309-2280 or send an email to Info@VoteMayorSummers.com for more information.
Read More on
Volume 11, Issue 14, Posted 4:33 PM, 06.23.2015