Nature's Bin Presents "A Natural Approach To Body Care & Beauty" On June 10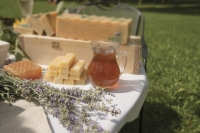 Join Nature's Bin when they host "A Natural Approach to Body Care & Beauty" with Judy Bulcroft on Wednesday, June 10 from 7 – 8:30 p.m. at University of Akron/Lakewood. Ms. Bulcroft is a certified family herbalist, and owner of Meadowlake Farms Botanicals. She will be talking about the benefits of using natural skin care, techniques for using these products and how to use your natural apothecary simply and safely.
"Judy brings an incredible depth of knowledge to this subject," commented Nicki Schneider, Vitamin/ Supplement, Tea, and Health and Beauty Manager at Nature's Bin. "She is passionate about natural skin care and our attendees will have a great opportunity to learn from her."
Ms. Bulcroft holds a Bachelor of Science in Nursing and is a Certified Family Herbalist. Prior to the pursuit of Herbal Medicine she enjoyed a 30 year career in Health Care Administration and as a Medical Rehabilitation Specialist. She also served as a wound care consultant on a trauma-rehab team. Medowlake Farms Botanicals is a member of Society of Cosmetic Chemists, American Botanical Council, United Plant Savers, Green Products Alliance, Certified Naturally Grown and Cruelty Free Companies
The program is free but registration is required. Please visit naturesbin.com to register.
Nature's Bin, Lakewood's own independent natural health store, is operated by the nonprofit, Cornucopia, Inc. This natural foods market serves as a training site for a unique and successful program that provides vocational training leading to employment for people with disabilities. Programs hosted at Nature's Bin serve people with a wide range of disabilities including developmental disabilities, autism, mental illness, visual, speech and hearing impairments, and injuries resulting from accident or illness. Nature's Bin has been serving the greater Cleveland community since 1975.
Read More on Foodwood©
Volume 11, Issue 11, Posted 3:04 PM, 05.26.2015