Nature's Bin Presents "An Introduction To Tea" On April 22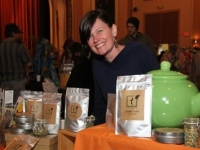 Are you curious about the differences between various kinds of tea? Not sure how to prepare loose tea or the tools you need? Join Nature's Bin when they host "An Introduction to Tea" with Sarah Hurt on Wednesday, April 22 from 7 - 8:30 p.m. at University of Akron/Lakewood (1415 Warren Road in Lakewood). Ms. Hurt will walk us through the differences and benefits of black, green, white and herbal teas. She will also answer your questions about how to prepare teas and the tools you can use in the process.

Ms. Hurt is an Herbalist, Tea Designer and Product Formulator at "t by Sarah," a local company that produces artisan, hand blended, all natural and organic herbal products. "We are so excited to provide this opportunity for our customers to learn about tea," commented Nicki Schneider, Vitamin, Supplement and Tea Manager at Nature's Bin. "Our customers have a high interest in the different kinds of teas available on the market and I know they will learn a tremendous amount from Sarah who is a master in the field."

Practicing and studying herbalism since 2007, Ms. Hurt has a Master Herbalist Diploma from American College of Healthcare Sciences, and other Herbal Certifications. She is a Certified Tea Master, a Certified Reiki Practitioner and is currently working towards Certification in aroma-therapy. Ms. Hurt is a member of the American Tea Masters Association, The American Herbalist Guild, United Plant Savers, and Ohio Proud.

This program is FREE but registration is required. Please visit www.naturesbin.com or the Nature's Bin Facebook page to register.

Nature's Bin, Lakewood's own independent natural health store, is operated by the nonprofit, Cornucopia, Inc. This natural foods market serves as a training site for a unique and successful program that provides vocational training leading to employment for people with disabilities. Programs hosted at Nature's Bin serve people with a wide range of disabilities including developmental disabilities, autism, mental illness, visual, speech and hearing impairments, and injuries resulting from accident or illness. Nature's Bin has been serving the greater Cleveland community since 1975.
Read More on Wellness Watch
Volume 11, Issue 8, Posted 6:10 PM, 04.14.2015