Lakewood's Angel From The Sky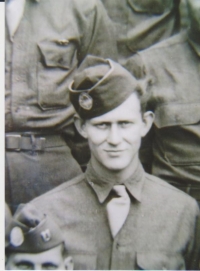 A new World War II exhibit, "Lakewood on the Homefront," has been installed in the Oldest Stone House Museum of the Lakewood Historical Society. During our study of this important period in Lakewood's history, we compiled fascinating personal stories about the impact of WWII on Lakewood's residents, and we unexpectedly received a research request from France, via email, for information about one of our former Lakewood soldiers.
In the request, researcher Thierry Ferey of Normandy, France, wrote that he had a WWII photograph of the paratroopers of Company A, of the 501st Airborne Paratroop Infantry. The troop's group photo was labeled "Somewhere in England." One of the men was identified as Gilbert "Gil" Smith of Lakewood, Ohio. Mr. Ferey wanted to know what had become of Mr. Smith after the war. He believed he was one of 29 paratroopers from Company A that were captured on D-Day and became POWs. He wrote, "He was one of these so extraordinary men who brought us our precious liberty; he will forever be one of our dear 'Angels from the Sky.'"
Records were searched in the society's archives and online to find Gil's story. It was found that Gil attended Lakewood High School and resided on Cannon Avenue. He was inducted into the Army when he was 20 and joined Company A of the 501st Airborne Division. Trained in England, and then attached to the famed 101st Airborne, the paratroopers of the 501st were to play a vital role in the D-Day invasion, of Normandy, France, on June 6, 1944. The paratroopers were dropped from planes into occupied territory in advance of the invasion. His status was first reported as "missing," on June 6, then changed to "prisoner" 3 months later. Online POW records indicate that Gil was captured on D-Day and held as a POW in Germany for 11 months. When his prison camp was liberated by the Russians, he returned home to Lakewood. He then married his sweetheart, Dorothy Gollin, on July 16, 1945, at her home in Lakewood, and then moved to San Diego, California, where he was reassigned. Records show he remained there with his family after the war.
A reply to Mr. Ferey, with the results of our research, was forwarded to him with our own questions. We asked if he knew of the circumstances of Gil's capture, if he had possibly met him, and would it be possible to share a scan of the photograph he had of Gil. Here in his own words is his family's story of the D-Day invasion and how Gil and his fellow paratroopers touched their lives: "On D-Day, my family lived on a manor farm in St Georges de Bohon.…Before dawn on D-Day, my family watched this spectacular view of all these planes that passed over their house with all the lights on. It was the first time that they saw some paratroopers, but the Germans were there and had occupied our living room since 1940.
"At dawn, as the Germans were out of the manor, a little group of these American paratroopers arrived at our home. They entered in the house and an officer put a map on a table. He asked my grandma where they were; the manor wasn't on the map. They were too far from the objective; they were lost. Then, these unfortunate paratroopers tried to find a way to join the American troops, but the Germans were all around and began a hunt for them.
"Then, these heroes crossed several fields and in an apple orchard they fell in a German ambush. After a courageous fight, at one against one hundred, with several men killed and wounded, these heroes surrendered to the Nazis. Then they went to our village church that was a German command post and a prison for the Americans. From there, they went to different "stalags" (German prison camps), and stayed there until the end of the war."
Sadly, Gil passed away in 2009, before Mr. Ferey could contact him. Mr. Ferey has kindly granted permission to the society to tell his family's story so the community may know of Gilbert Smith and his fellow paratroopers, and their sacrifices in the liberation of his country.
Other inspiring stories of courage, adventure, and sacrifice of Lakewood's WWII soldiers and citizens can be explored in the society's new exhibit, "Lakewood on the Homefront." Come to the Oldest Stone House Museum to get a glimpse of what life was like for Lakewood citizens during the war. You can see posters, photographs, newspapers, fashion from the 1940s, uniforms, and more. Museum hours are Wednesdays, 1–4 p.m. and Sundays, 2–5 p.m. Call the office at 216-221-7343 to arrange for group tours. Admission is free!
Amanda Francazio is the Curator of the Lakewood Historical Society.
Amanda Francazio
Curator at the Lakewood Historical Society
Read More on Non-Profit
Volume 11, Issue 8, Posted 6:10 PM, 04.14.2015