Radon Gas - Be Aware Not Scared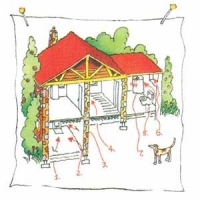 Radon is still a mystery to many homeowners and new buyers. Some may be aware that it is something to be concerned about, but not exactly sure how it can affect their family's health. It's important to know the facts and safety measures.
Understanding what radon is
Radon is a tasteless, odorless, invisible gas—which comes from the natural breakdown of uranium in soil, rock, and water. If this happens out in the open, the radon quickly dissipates and poses no risk. The problem arises when radon gets trapped inside a structure. Radon levels can build up to a point where they are dangerous for humans. In fact, radon gas is considered the second leading cause of lung cancer in the United States. According to Environmental Protection Agency (EPA), radon contamination causes nearly 20,000 deaths a year.
Radon Testing in Lakewood
The EPA considers any homes with results 4.0 picocuries per liter or higher, at risk. Lakewood fairs better than other west shore communities with radon scores. "Lakewood has relatively lower readings with only 25% of homes averaging over 4.0 – these are primarily homes in northwest Lakewood where the soil is soft and has more sand. The remaining 75% test in the safe range, which tend to be homes in the southern, and eastern borders of the city. That area has a hard, clay soil," says John Larto, a licensed Inspector with Bowman Home Inspection. Homeowners and buyers alike should consider Radon testing. When you are purchasing, a licensed Radon Inspector can test at the time of your general home inspection. This typically takes 48-96 hours with results to you within 24 hours. Current owners can pick up a radon test kit at Lakewood Hardware. The simple do-it-yourself tests are affordable, reliable, and require minimum set-up. It is recommended that owners repeat Radon tests every few years, and when the soil has been disturbed from remodeling or new construction.
What to do about Radon
If your results are 4.0 or higher, check with the Ohio EPA for a list of qualified mitigation contractors. While some of the solutions are simple, it is not a DIY job. If you don't do it right, you might actually increase the level of radon, or compromise the air quality in your house. A radon mitigation contractor will be able to tell you what kind of radon control system will be most effective for your home. Most of the systems range in cost from $900 to $1,500. The mitigation system itself is a pipe placed into your foundation which extends to the roof of the home. A fan draws the radon up from the ground, and out to the top of the pipe, where it becomes diluted with the outside air. Your contractor will be able to explain maintenance of the system, and tips for keeping your home safe, such as continually checking for, and sealing up, cracks in your foundation.
Michelle Mehaffey-Taylor is a Lakewood resident and licensed Realtor with Keller Williams EZ Sales Team - Michelle@EZSalesTeam.com; MyLakewoodLiving.com.
Michelle Mehaffey Taylor
Michelle Mehaffey Taylor is a Lakewood resident and licensed Real Estate Agent with The EZ Sales Team at Keller Williams Realty - Michelle@EZSalesTeam.com; MyLakewoodLiving.com
Read More on Real Estate
Volume 11, Issue 7, Posted 7:10 AM, 04.01.2015