We Can Code IT Offers Free Tuition To Coding Bootcamp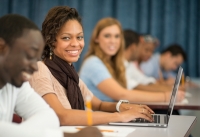 Cleveland Organization Offers Free Coding Bootcamp to Assist Low-Moderate Income Earners in Getting Lucrative Jobs
We Can Code IT, a Cleveland-based social good organization backed by ECDI, is offering free coding bootcamp tuition to select qualified candidates. The free tuition, worth $10,000, is being offered for We Can Code IT's all-women bootcamp for local Clevelanders in low- to moderate-income households. It begins on March 9th, 2015, and runs for 12 weeks. The first of many coding bootcamps is an on-site, full-time immersive experience. Subsequent We Can Code IT bootcamps will include co-ed and part-time cohorts. We Can Code IT's goal is to empower low- to moderate-income earners, while diversifying tech, a lucrative field with a severe lack of diversity, but an immense number of job openings.
Coding bootcamps immerse students in the most in-demand programming languages and technologies over the course of three to five months. Students learn rapidly because of a single-subject focus, collaborative environment, and problem-based approach. Expert instruction is an essential part of the immersive experience. Mel McGee, We Can Code IT's CEO, will instruct the bootcamp. She has nearly 20 years of experience as an instructor and software engineer. "Almost anyone can learn how to code. The ability to learn computer science has nothing to do with gender or income," she said. "You need to be a dedicated, ambitious learner with the ability to think analytically. Computer science is about teamwork, creativity, and expressing ideas through the medium of computers."
The objective of the We Can Code IT bootcamp is to prepare women and diverse populations for a career path in the most in-demand, high-paying occupations such as computer programmer, software engineer, and web developer. There will be more than 1 million unfilled tech jobs by 2020. First year software engineer salaries in Cleveland average around $50,000. Throughout the bootcamp, students will participate in resume writing and interview preparation workshops, and they may complete rotations at employer partner organizations in the Cleveland area to see technology jobs in action. Students are provided with job placement assistance in coordination with local employer partners such as Hyland, creator of OnBase and StreamLink Software.
Qualifying candidates for the free tuition opportunity are ambitious, driven women from Northeast Ohio who reside in low- to moderate-income households -- households with a combined income of less than $47,500 a year. The application process consists of a short application, a non-coding skills assessment, and an interview. To apply for this opportunity, students can visit http://Bootcamp.WeCanCodeIT.org. The application deadline is Sunday, March 1, 2015.
Shana Mysko
I'm the Community Outreach Director for We Can Code IT.
Read More on Features
Volume 11, Issue 5, Posted 11:08 AM, 03.01.2015