Robert Rice, Retired Lakewood Schools Music Teacher Passes On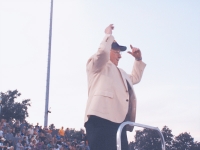 Dear Lakewood Observer family:
On January 14th, after having a nice lunch at a restaurant, and a visit with another retired band director, Dad (Robert Rice) and I came home, and I sent him upstairs for his afternoon nap. He appeared to be doing quite well at that point, but he passed away very suddenly, before even getting into bed.
Dad would want you all to remember him for his smile and encouragement to others, for his music, (he actually played his trumpet on the morning of his passing) and for his great love for all of you, and for Lakewood. With my help, Dad wrote band marches for Lakewood's schools, as well as a band march for America's veterans. He was a Lakewood Schools music educator from 1958-1983, and a member of the Lakewood Schools Staff Hall of Fame. Dad was 94 years young.
Arrangements are private. No visitations or memorials are scheduled. I know that Dad would only wish that each of you smile and reach out and help each other, all the days of your lives.
Gary Rice
Read More on Notices
Volume 11, Issue 2, Posted 1:08 PM, 01.20.2015