Be Your Own Hero!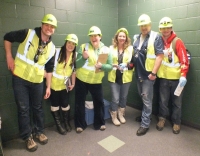 Whether everyday emergencies like injuries, fires, and outages or large scale disasters, community preparedness starts with you. If you were there, would you be part of the problem or solution? The Westshore Regional Community Emergency Response Team (WSC) is offering free classes on topics such as disaster preparedness, emergency medical considerations, search and rescue procedures, fire suppression, disaster psychology, and more. The 20-hour FEMA course is conducted by local safety professionals. Teens welcome. Westshore residents who are over 18 years of age, successfully complete training, and pass a background check are eligible for team membership. Team membership is not required to participate in the free training. Visit www.westshorecert.org for more program and team information.
Do your part to keep your family and our neighborhoods safe and prepared. To register or for more information contact WSC Coordinator Tricia Granfors at (440) 716-4135 or granforst@north-olmsted.com. Space is limited.
Training begins Saturday, February 28. The five consecutive Saturday morning classes will be held at St. John Medical Center and the Westlake Service Center from 8:00 a.m. to 12:30 p.m.
Tricia Granfors
The Westshore Regional CERT (WSC) is a (as of Jan 2015) 300+ member nonprofit volunteer team under the Westshore Council of Governments. The national CERT program seeks to educate residents about disasters common or possible in their area through free 20-hour disaster preparedness training. US citizens over 18 who pass a background check are eligible for team membership. The WSC supplements emergency responders when needs outweigh resources.
Read More on Civic Groups
Volume 11, Issue 2, Posted 1:08 PM, 01.20.2015