City Selects Developer for McKinley School Site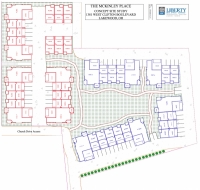 The city of Lakewood has chosen Liberty Development Company of Cleveland to build an expected 40 town home units at the site of the former McKinley Elementary School in one of the city's largest land redevelopment projects of the year.
The selection comes after a comprehensive search during the request for qualifications process announced in June.
The proposed for-sale housing units will be designed for energy efficiency and will include elements such as first-floor bedrooms, bathrooms and attached garages.
"This exciting news means that Lakewood will continue to further strengthen our already diverse housing stock," said Lakewood Mayor Michael Summers, who attended elementary school at McKinley.
The project is expected to be completed in the Fall 2017 and be valued at more than $10 million.
"This is the second major new residential development in Lakewood in recent history and a nice complement to the $90 million in private commercial investments during the past five years," Summers said.
Liberty Development President Tom Kuluris, a resident of the neighborhood and also a former McKinley student, said he is looking forward to working with the mayor and the administration.
"We believe McKinley Place is the exact type of new residential community Lakewood needs with a combination of first-floor living and townhouse-style homes," Kuluris said. "It will be a great place to live for both empty nesters and for young professionals who flock to Lakewood looking for convenient, high-quality housing."
The 2.9-acre site was cleared over the summer to make way for development after the city purchased the property from the Lakewood Board of Education in October 2013.
"With the proposed first-floor amenities, this development will encourage older residents to stay in town," said Linda Beebe, president of the Lakewood School Board. "It will certainly benefit the school district in the form of a new tax base and I think it will also be a great addition to the neighborhood."
City council will have final approval on the sale of the property to Liberty Development. The project also still needs approval from the city's planning commission and architectural board of review.
Liberty Development hopes to break ground on McKinley Place in the summer of 2015.
A public meeting to present the design concepts is slated to take place in the auditorium at Horace Mann Elementary School at 6:30 p.m. Tuesday, November 11.
Read More on City
Volume 10, Issue 23, Posted 4:03 PM, 10.28.2014