Happy Birthday STEM Handmade Soaps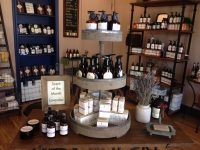 STEM Handmade Soaps is turning one! It's hard to believe we've been keeping the greater Cleveland area clean for a whole year with all natural soap and other natural bath and body products. It has been a great year and you have taught us many things to help us succeed in our little soap shop in Lakewood's Historic Birdtown neighborhood. Here are the top 5 things we learned from you in our first year
5) You take pride in Lakewood and it's continued growth. Next stop - Birdtown!
4) People are passionate about their favorite scents. Our soaps come in many scents, there is ultimately one you can't stop sniffing, you want to bathe with it, shower with it and eat it for dessert if you could. (You know who you are!)
3) You care about what goes in your body AND what goes on your body. Natural products made from sustainable resources are important to you and your family.
2) You love learning about new products and smelling new 'flavors' every time you stop by. This past year we introduced new scents including Sweet Bouquet, Pub Suds - made with Dortmunder from Great Lakes Brewery and Lavender-Lemon. We now carry all natural deodorant, massage oil and roll-on aromatherapy made with essential oils. Keep reading for yet another exciting new product announcement.
1) Our best sales people don't work at the store. Locally made products are important to you and you like to share them with friends and family near and far. The biggest compliment you give us is when you bring out of town guest in to visit our little soap shop. You make us feel like a tourist attraction. Thank you Lakewood!
We will be celebrating our 1st Birthday October 4th & 5th from 10 a.m.-5 p.m. Clean yourself up (with STEM soap of course!) and celebrate with us.
Witness the launch of our newest product made naturally for your best friend - Happy Hound Dog Shampoo.
Free gifts all weekend long and three lucky customers will win a year supply of soap! Located at 12405 Madison Ave, you will know you've arrived by the bubbles floating all over Birdtown. See you there.
Steve Meka
Owner of STEM Handmade Soaps on Madison Ave in Lakewood's Historic Birdtown
Read More on Features
Volume 10, Issue 20, Posted 2:16 PM, 09.30.2014