Sensory Story Time Launching At Lakewood Public Library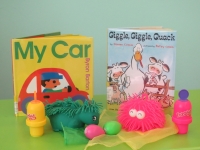 This fall, Lakewood Public Library will be launching an exciting new program called Sensory Story Time. Much like a typical story time, but enhanced, it is specially designed for 3-7 year old children with special needs, autism, or those with sensory processing challenges. Libraries across the country are starting similar programs, and with the rates of autism on the rise, sensory story times are a great way to makes libraries inclusive for all families.
So what makes these story times "sensory"? To begin with, registration is capped at a lower number so that the noise and size of the group isn't too overwhelming. A visual schedule is another key component, which tells the children in picture what they will be doing and in what order. It's a great tool to ease the anxiety for any child in a new situation. Attendees are able to pick out a fidget toy to hold during the program to help them stay focused, and all the books read include some sort of participatory component, such as shakers or felt pieces of the story that are put up on a board. Numerous song and movement activities are also included to help keep attendees engaged, but music is either sung or kept at a low volume. At the conclusion of the story time, parents and children can stay and play with sensory friendly toys, providing an opportunity for them to get to know other special needs families in the community.
So if you have a child with special needs, or your child just has a difficult time sitting through other story times, this inclusive, integrative program may be just what you are looking for!
The program will be held Sundays from 3 p.m. to 4 p.m. September 14th, October 12th, November 9th, December 7th, January 4th, and February 1st at the Main Library in the Toddler Story Time Room.
To register, go to www.lakewoodpubliclibrary.org/youth, call (216) 226-8275, ext. 140 or just stop in.
Read More on Library
Volume 10, Issue 18, Posted 4:26 PM, 09.02.2014