Mahall's Presenting The Third-Annual LKWD Music Festival On August 23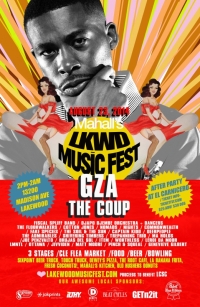 Three stages, 30 bands, and 20 food and shopping vendors. The LKWD Music Fest just keeps getting bigger and better.
Presented by Mahall's 20 Lanes, the third-annual festival will take place at 13200 block of Madison Avenue from 2 p.m. to 2 a.m. August 23.
The GZA, a hip-hop legend and co-founder of the Wu-Tang Clan, headlines this year's fest. When it comes to thought provoking, street-bred raw lyricism, the Wu-Tang Clan's fountain of wisdom, GZA takes his job very seriously. His rhymes have been described as "mirroring the skill and precise technique of one who works with fine ceramics."
Even before he'd added TED Talks to his repertoire, The GZA been described as "The Genius."
Co-headlining the fest is the Coup from Oakland, CA. The soul-funk-punk rock collective is known for its strong message against social injustice and powerful live performances.
The fest features dozens of other talented performers, with genres ranging from hip-hop to indie-rock, and brass infused afro-beat to experimental folk.
The festival takes place on indoor and outdoor stages, as well as the basement Locker Room stage. Food trucks and vendors will line the curb lane of Madison Avenue in front of Mahall's.
This year, the LKWD Music Fest partnered with the Cleveland Flea, attracting 20 vendors from around the Cleveland area, including Mac's Backs Books, Guide to Kulchur, Great Lakes Outfitters, La Banana Frita, Chill Pop Shop and the Root Café.
Oh yeah, there are 20 vintage lanes of bowling, too.
"This is sort of our annual summer block party," said Mahall's co-owner Kelly Flamos. "It's also an opportunity for the community to come together to celebrate our diverse, local music scene."
"Many of these performers – such as The GZA, the Coup, Cotton Jones, the Soil and the Sun — are already nationally known. Many of the others on the bill will be soon."
Here's the entire line-up: The GZA, The Coup, Cotton Jones, The Floorwalkers, Ma Holos, Drippy Eye Projections, Fake Species, DEERPEOPLE, Shivering Timbers, Brujas Del Sol, Nomads, Nights, The Commonwealth, Pinch & Squeal, ITEM, Worthless, The Soil and The Sun, The Admirables, Joe Penzvalto, Matt Moore, Fiscal Spliff Band, Trepanning Trio, LMNTL, Analog Fantom, RA Washington, Ottawa, Captain Kidd, Jivviden, Djapo Cultural Arts Institute Dancers & Djembe Orchestra, and Genevieve Gilbert.
New York City's premier liquid light show projectionists, Drippy Eye Projections, will put on a spectacular light show while psychedelic rock bands play from 10 p.m. to 2 a.m. on the main indoor stage.
Also, among those performing are Mahall's employees Joanna Ericta and DJ Szucs (Fake Species), Conner McCready and Dylan Glover (ITEM), and Joe Penzvalto.
An after-party is slated to take place at El Carnicero, 16918 Detroit Ave., Lakewood from 10 p.m. to 2 a.m.
Sponsors for this year's LKWD Music Fest include local area businesses Beat Cycles, GETn2it, Dewey's Pizza, Ilthy, and Jakprints. Beer sponsors are Sixpoint Brewery and Pabst Blue Ribbon. Proceeds from the event will benefit the Lakewood Community Services Center, a local non-profit providing assistance to Lakewood residents in need.
LKWD Music Fest tickets are on sale for $25 at Mahall's, Beat Cycles and My Mind's Eye record store, or on ticketfly.com. They will also be sold at the door for $30.
For more information about this year's LKWD Music Fest, visit lakewoodmusicfest.com.
Read More on Foodwood©
Volume 10, Issue 17, Posted 8:13 AM, 08.21.2014