Get Inspired At The 2014 "Come Home To Lakewood" House And Garden Tour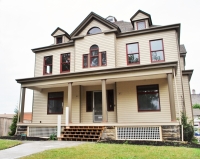 Ready to begin a home renovation project but lack vision and a master plan? Then don't miss the 2014 "Come Home to Lakewood" House and Garden Tour, Sunday, September 7, from 1 to 6 p.m. and discover all the inspiration and idea generation you could possibly need to ignite your creativity.
The eagerly-anticipated tour features eight residences, a new two-story garage, two public spaces that have undergone renovation, and the Nicholson House, Lakewood's oldest residence. Each structure has a unique story to tell of preservation and restoration. Showcasing Lakewood's diverse housing population, this year's tour presents outstanding examples of Tudor, Colonial Revival, Arts and Crafts, Victorian, English cottage and mid-century architectural styles, each with contemporary upgrades that honor the integrity of the original architectural design.
Begin your House Tour weekend at the Patron Party Saturday, September 6, from 6 to 9 p.m. The Patron Party house, not on Sunday's tour, is a lakefront with unique Tudor ornamentation inside and out. Enjoy food, beverage, entertainment, and the opportunity to bid on a wide variety of silent auction items and enter the Instant Wine Cellar raffle. Patron Party tickets are $75 and include a ticket for Sunday's tour. They and the $25 general admission tickets, can be purchased online at lakewoodhistorymuseumstore.com; at the Oldest Stone House, 14710 Lake Avenue by mail or during business hours. Additional locations for general admission tickets are listed below. The tour sells out, so get your tickets before they're gone! For more information, call the Oldest Stone House at 216.221.7343.
Ticket Outlets:
Lakewood
The Oldest Stone House
14710 Lake Ave.
Beck Center for the Arts
17801 Detroit Ave.
First Federal of Lakewood
14806 Detroit Ave.
Geiger's Clothing and Sports
14710 Detroit Ave.
Rozi's Wine House
14900 Detroit Ave.
Around Town
Mitchell Sotka, Antiques
19071 Old Detroit Road, Rocky River
V Regalo / The Desk Set
19920 Detroit Road, Rocky River
Pzazz, a Consignment Salon
25955 Detroit Road, Westlake
Read More on Home & Garden
Volume 10, Issue 17, Posted 8:13 AM, 08.21.2014