Tales From The Tour: "Come Home To Lakewood" House And Garden Tour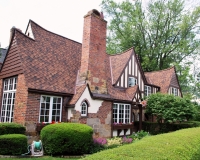 Lakewood homes have stories to tell.
One grand residence, most recently a rooming house, narrowly escaped the wrecking ball through the efforts of LakewoodAlive, Detroit-Shoreway and the city of Lakewood. Renovations have just begun; tour-goers will see it in its raw state on this tour and the finished product on the 2016 tour. Also featured is the two-story garage built to match the architecture of the house by Lakewood vocational education students. Then there are the sleek Gold Coast suites with breathtaking views of Lake Erie.
These are just three examples of the aesthetically and architecturally diverse structures with stories ready to be shared at the Lakewood Historical Society's 2014 "Come Home to Lakewood" Home and Garden Tour.
On September 7 from 1-6 p.m., community-nominated homes and businesses open their doors to the public for an afternoon that showcases outstanding examples of the city's unique architecture. From turn-of-the-century Victorians, classic Colonials, mindfully-restored Tudors to stylish mid-century modern condominiums, the tour offers something for everyone interested in discovering the places that provide Lakewood with its character and charm.
Begin your House Tour weekend at the Patron Party Saturday, September 6, 6-9:00 p.m. The Patron Party house, not on Sunday's tour, is a lakefront with unique Tudor ornamentation inside and out. Enjoy food, beverage, entertainment, and the opportunity to bid on a wide variety of silent auction items and enter the Instant Wine Cellar raffle.
The highly popular "Come Home to Lakewood" biannual tour traditionally sells out. Advance sale tickets for the House Tour are $25.00 and are now on sale. Tickets can be purchased at the Oldest Stone House in person or by mail, online at lakewoodmuesumstore.com or at the retail outlets listed below. A limited number of tickets may be available the day of the tour at the Nicholson House for $30.00. Patron Party tickets are $75 and include a ticket for Sunday's tour. They can be purchased online, by mail, or at the Oldest Stone House during business hours. For more information, call the Oldest Stone House at 216.221.7343. Get your tickets before they're gone—you don't want to miss this event!
Ticket Outlets:
Lakewood
The Oldest Stone House
14710 Lake Ave.
Beck Center for the Arts
17801 Detroit Ave.
First Federal of Lakewood
14806 Detroit Ave.
Geiger's Clothing and Sports
14710 Detroit Ave.
Rozi's Wine House
14900 Detroit Ave.
Around Town
Mitchell Sotka, Antiques
19071 Old Detroit Road, Rocky River
Pzazz, a Consignment Salon
25955 Detroit Road, Westlake
Read More on Home & Garden
Volume 10, Issue 17, Posted 3:05 PM, 08.05.2014