Rotary Sponsoring Singing Angels Concert June 19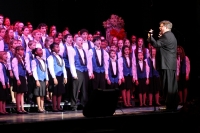 Singing Angels is celebrating its 50th anniversary, and 40 young people from Northeast Ohio are heading abroad to an international choral celebration in Geneva, Switzerland, July 3-9.
The singers traveling "To Geneva, With Love" will be in concert June 19 at 7:30 p.m. at the Rocky River High School auditorium, 20951 Detroit Road.
Sponsored by the Rotary Club of Lakewood and Rocky River, the concert will kick off the Angels' 2014 tour. Proceeds from the event will benefit the club's community grants program.
Advance tickets are available through the club's website, www.lakewoodrockyriverrotary.org, for $10.00. Tickets at the door the night of the concert will be $12.
Charles Eversole, Singing Angels artistic director, is a member of the Lakewood-Rocky River club.
Earlier this year, Friendship Ambassadors Foundation invited the Angels to perform at its international choral celebration, "The Rhythms of One World 2014."
The Singing Angels is one of seven choirs from six continents invited to sing at the festival. Signal Hill Alumni Choir (Trinidad & Tobago), Echology of the University of Newcastle (Australia), County Town Singers (Canada), Voices International (Luxembourg), Coro Universitario de Mendoza (Argentina), and Kearsney College Choir (South Africa) will also be attending.
Since its debut in 1964, the Singing Angels have performed in 34 countries, been featured on national and international television, performed four times at the White House, three times at the Vatican, and has appeared in concert with a host of start including Celine Dion, Bob Hope, Kenny Rogers, Roberta Flack, the Cleveland Orchestra, and others.
Geneva is the home of the United Nations in Europe. The festival celebrates the June 26, 1946, signing of the original UN Charter, "We the Peoples." Two mass choral concert performances will be staged – July 6 at Victoria Hall and July 8 at Palais des Nations, uniting the participants through a musical sharing – a true hallmark of FAF's 'peace through the arts' program.
Other featured concerts will take place in prestigious venues throughout Geneva. In addition, workshops open to the public will be led by internationally-recognized choir directors.
Lynn Donaldson
Rotary Club of Lakewood & Rocky River
Read More on Civic Groups
Volume 10, Issue 12, Posted 6:28 PM, 06.10.2014