Harding's Pangrace Earns Prestigious Teaching Award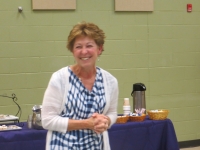 Out of hundreds of nominees from across the state, Harding Middle School's Ruth Pangrace, has been awarded the prestigious Master Teacher Award for 2014 by the Martha Holden Jennings Foundation. The award recognizes the most effective educators in the state – one at the elementary level and one at the secondary level – and rewards them with $7,500 to use for an educational project.
The foundation describes Master Teacher winners such as Pangrace, who teaches Gifted Social Studies, as professionals "admired by their colleagues, active in their communities, and that have made long-standing achievements as educators." Candidates for the Master Teacher Award are nominated by their school administrators and are selected by a panel of leading educators.
In his nomination of Pangrace, Harding Principal Joe Niemantsverdriet called her "a leader among the teachers of Harding Middle School….(she) is the definition of a Master Teacher in her classroom performance, leadership for other staff in the building, and integration of collaboration with all those having a vested interest in the education of her students."
Superintendent Jeff Patterson said Pangrace "personifies the title of the award." He continued in his nomination letter that "she epitomizes the complete package of what we need from a teacher of gifted students in providing sufficient but appropriate challenges for her students, effective collaboration with regular classroom teachers and perfect community outreach to showcase learning."
Pangrace, who has been with the district since 2001, enriches her students' academic experiences in various capacities outside the classroom as well in her role as adviser for the award-winning Power of the Pen teams, Classroom of Champions, Academic Challenge and Mock Trial teams, which consistently win top honors. She organizes an annual History Night and encourages her students to become active members of their community and to champion causes meaningful to them.
Pangrace intends to use her $7,500 to fund a project she calls HIROS or Helping Immigrants and Refugees Obtain Support. The project will focus on bringing her gifted students and the school's growing immigrant and refugee population together working on open-ended activities and presentations directed at real audiences, and developing meaningful connections among each other through field trips and workshops.
"I am grateful and excited to initiate a special program next year, that will bring two very unique middle school student populations together, the advanced students and the increasing number of refugees and immigrants," Pangrace said. "I hope that the HIROS program will embrace multiculturalism, celebrate diversity and encourage empathy and social responsibility among our students."
It has been a year of accolades for Pangrace as earlier this year she was named the Lakewood Council of PTAs' Educator of the Year for the entire district.
Read More on Schools
Volume 10, Issue 11, Posted 6:24 PM, 05.28.2014