LCC Holding Massive Rummage Sale, April 25-27, To Support Youth Mission Trip Fund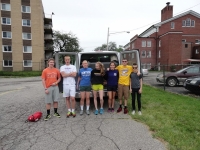 What do sustainable solutions to hunger and poverty, a youth mission trip and a rummage sale have in common? At Lakewood Congregational church – everything.
Twenty LCC youth and adult chaperones are journeying to Heifer International Farm in Rutland, Mass., on July 6 for five nights of service and education, as part of the church's annual youth mission trip. And, they're raising funds to pay for the trip during a huge rummage sale, April 25-27, in the church's social hall at 1375 W. Clifton Blvd., Lakewood.
The sale – the first ever sponsored by the LCC Youth in support of their Mission Trip Fund -- runs on the following days:
Friday, April 25, 9 a.m. - 2 p.m.

Saturday, April 26, 9 a.m. - 2 p.m.

Sunday, April 27, 9 a.m. - noon.
On Sunday only shoppers can enjoy a special $5 bag sale. The rummage sale team will provide shoppers with a bag that they can fill with most available items for $5.
The LCC youth have been accumulating large amounts of donations since October for this event, which promises to have a little bit of something for everyone.
"We have collected a ton of donations. We have all sorts of cool things, from holiday decorations to books and DVDs to furniture and clothing and even a few antiques and collectibles," says David Dailey, a Lakewood High School freshman and one of the LCC youth traveling to Massachusetts in July. "We're excited to have this sale and raise money for our trip to the Heifer Farm."
LCC has had a longstanding relationship with Heifer International, a nonprofit, humanitarian organization dedicated to ending hunger and poverty and caring for the Earth. Heifer currently provides livestock, trees, seeds, and training in environmentally sound agriculture to families in more than 40 countries, including the United States.
During the LCC mission trip group's five-night stay, they will participate in educational programs designed to teach them about the causes and challenges of and sustainable solutions to hunger and poverty. They also will be involved in assisting with daily chores on the farm, including gardening, working with livestock and helping with farm maintenance. They'll also spend a night in the center's Global Village, where they will prepare meals with limited resources and sleep in simple housing (such as a bamboo Thai home or a Tibetan yurt) and learn the lesson of poverty first-hand.
Funds raised from the April 25-27 rummage sale will help pay for youth and chaperone travel, enrollment and lodging fees for this unique outreach experience.
This isn't the first time LCC youth visited the Heifer International Farm. A group also traveled to Massachusetts in summer 2006. The church also supports Heifer International efforts through children's' donations to the church's "Miracle Jar" each Sunday as they leave the sanctuary to attend Faith Formation classes and also through the holiday "Living Gift Market."
During the annual Living Gift Market, LCC members can purchase "gifts" in honor of family and friends such as food- and income-producing animals like goats, bees, chicks and heifers. The animals go to resource-poor families working to improve their lives. Lakewood Congregational Church donates between $1,500 and $2,000 each year to Heifer from the Miracle Jar offerings and the Living Gift Market.
Heifer partners with community groups to form development plans and to train beneficiaries in animal well-being, agro-ecology, water quality, gender equity and community development, to name a few things. The training enables them to care for livestock, grow crops sustainably and further lift themselves out of poverty.
Heifer's recipients agree to share one or more of their animals' offspring and the training they receive with others in need in what Heifer calls Passing on the Gift®. This unique development tool multiplies the benefit of the original gift and allows recipients to become donors. Heifer partners are also taught to prevent overgrazing, collect manure for organic fertilizer, plant trees and manage resources for long-term success.
"Be sure to mark your calendars for April 25-27 and visit our rummage sale," says Lakewood Congregational Church pastor, Rev. Mark Thomas. "You just might find a hidden treasure and help our youth raise funds for their trip and this important outreach effort with Heifer International."
For more information on the upcoming LCC Rummage sale or on Lakewood Congregational Church, its worship times, youth fellowship programs and more, contact the LCC office at 221-9555 or lccstaff@lcc-church.org.
Robin Suttell
Robin Suttell is Lakewood Congregational Church's Welcoming Ministries chair and is a 18+ year Lakewood resident.
Read More on Features
Volume 10, Issue 8, Posted 2:32 PM, 04.15.2014