H2O's Bikes And Bands Returns April 26th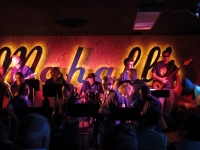 H2O wants your old bikes! On Saturday, April 26, H2O (Help to Others) will hold its second annual Bikes and Bands celebration. Drop off your bicycle donation at Madison Park between 4 and 7 p.m., then head across the street to Mahall's 20 Lanes to enjoy music from Vance Music Studios' rock ensembles and Tri-C High School Rock Off finalists, High Acres. Volunteer mechanics and student assistants will repair the bikes throughout the event so they are ready to be donated to Lakewood youth.
Bikes and Bands aims to ensure that Lakewood youth who need a bicycle for transportation have access to a bike that is in safe, working condition. H2O is working closely with Lakewood City Schools staff to identify students in 4th through 8th grade who could benefit from this program. Along with a bike, each chosen applicant will also receive a helmet and lock. Bikes will be distributed in time for students to ride their new bikes to school for Bike to School Day on May 20.
In the event's first year, the Lakewood community pulled through with forty bicycle donations. Twenty-four of those bikes were fixed up and given away to Lakewood youth, and another six were donated to Catholic Charities. The remaining bikes were taken to Ohio City Bicycle Co-Op to be salvaged for parts. This year, H2O hopes to collect even more bikes, so that even more Lakewood youth can have access to a bike this summer. All sizes and styles of bikes will be accepted, but bikes with 20-inch and 24-inch wheels are in the highest demand.
Admission for Bikes and Bands is $8 for adults and $5 for youth, or free with a bicycle donation.
H2O's Bikes and Bands is made possible through partnerships with The City of Lakewood Department of Planning and Development, Bike Lakewood, Ohio City Bicycle Co-Op, Spin Bike Shop, Mahall's 20 Lanes, Kohl's Westgate volunteers and the Kohl's Cares Foundation, Vance Music Studios, and Lakewood City Schools. H2O is a service learning program sponsored by the City of Lakewood's Division of Youth Office in partnership with Lakewood City Schools. Participation is open to all middle and high school youth in Lakewood.
Vanessa Lange
Vanessa Lange is the Assistant Coordinator of H2O (Help to Others) with the City of Lakewood Division of Youth.
Read More on Features
Volume 10, Issue 8, Posted 2:32 PM, 04.15.2014