Lakewood Pastor Completes 25 Years In The Ministry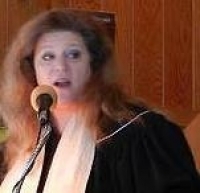 She was the first woman ever to be ordained in her home presbytery in the state of Wisconsin. Now Reverend Lynn Anderson of Grace Presbyterian Church in Lakewood, Ohio, is completing her twenty-fifth year as a Presbyterian minister.
Reverend Anderson made the decision to go into the ministry while earning a degree in social work with a certification in criminal justice from the University of Wisconsin-Madison. She enrolled and earned a Master of Divinity degree from San Francisco Theological Seminary, while interning at the California Youth Authority, and at Three Rivers Presbyterian Church, on the edge of Sequoia National Park.
Called back to the Midwest, Reverend Anderson was ordained November 26, 1988, in Winnebago Presbytery near Green Bay, Wisconsin. She was the first woman to be so designated at Winnebago.
In her long and eventful career, Reverend Anderson has served as Chaplain of Children's Hospital of Michigan in Detroit, Director of Outdoor Ministry for Presbytery of the Western Reserve in Ohio, as Pastor at Boulevard Presbyterian Church in Euclid, Ohio, and, since 2004, as Pastor of Grace Presbyterian.
Grace Presbyterian was one of the pioneer churches of the "Community Meal" program in Lakewood, which offers a free meal once a month to all. The church also has a long association with the Lakewood Community Service Center. Reverend Anderson is currently working, with three neighboring churches, to make the churches more responsive to the changing needs of Lakewood residents.
Known as a dynamic, powerful speaker, Reverend Anderson preaches every week at Grace Presbyterian, prominently located at Hilliard and Madison Avenues, one of Lakewood's busiest intersections. All are welcome to hear Reverend Lynn preach!
Read More on Features
Volume 9, Issue 24, Posted 5:48 PM, 11.28.2013