Wreath Sale - Lakewood Historical Society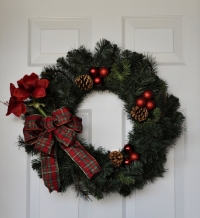 A beautiful red amaryllis and Turnberry Tartan plaid bow decorate this year's Lakewood Historical Society's holiday wreath. The 24" fresh fir wreath will be accented with blue berried juniper, cedar cuttings, pine cones and red ornaments and arriving right after Thanksgiving. Proceeds benefit the programs and projects of the Lakewood Historical Society and support the operation of the Oldest Stone House Museum and The Nicholson House.
The wreath and plaid ribbon with gold trim were crafted in the USA. The cost of the decorated wreath is $35 ($17.50 of which is tax deductible for each wreath purchased). Place your order NOW online at www.lakewoodmuseumstore.com or call 216-780-2222 (please enter area code).
Wreaths will be ready for pick up Wednesday, December 4, from 9 a.m. to 4 p.m. and Thursday, December 5, from 9 a.m. to 7 p.m. at the Skate House behind the Oldest Stone House, 14710 Lake Avenue, Lakewood.
Annette Millisor
Co-Chair Lakewood Historical Society Wreath Sale
Read More on Home & Garden
Volume 9, Issue 22, Posted 4:09 PM, 10.29.2013