Lakewood Survey Finds Support For County Levies And School Bond Issue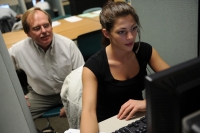 A phone survey conducted by a political science research methods course at Baldwin Wallace University in Berea found strong support among adult Lakewood residents for Issue 84, the Lakewood City Schools bond issue and levy, as well as for the three county levies. Students in the "Introduction to Political Analysis" course, taught by Professor Tom Sutton, engaged in "learning by doing," as they designed the survey questions, conducted the phone survey, and analyzed the results.
Highlights of survey findings include:
* Steady support for Lakewood City Schools Issue 84: 82% were very or somewhat aware of the issue; 63% strongly or somewhat support Issue 84; 63% said they voted for the first facility bond issue in 2004, the same percentage as said they voted in favor of the second bond issue in 2007. According to the Cuyahoga County Board of Elections, 54.23% voted in favor of the 2004 bond issue, while 68% voted in favor of the 2007 bond issue.
* Respondents support schools despite not currently having children in the schools: only 13% of respondents currently have children in the Lakewood City Schools; 20% of respondents attended the Lakewood City Schools; 60% of respondents have visited one or more of the school buildings in the last three years.
* Strong support for three County levies: 71% support Issue 1, the Cuyahoga County Health and Human Services levy (2.9 mill renewal and 1 mill new tax); 80% support Issue 80, the Metroparks levy (1.8 mill renewal and 0.9 mill new tax); 62% support Issue 82, the Port Authority levy (0.13 mill renewal). 58% of respondents have visited the Metroparks at least once/month during the past year.
* Lakewood City Council incumbents recognized: Incumbents running for Council-at-Large seats had the highest name recognition. 63% of respondents know incumbent Tom Bullock, as do 31% for incumbent Ryan Nowlin. New candidate Sam O'Leary had 23% name recognition, followed by 19% for Cindy Marx, and 15% for Anthony Davis.
* 67% of respondents are 'very or somewhat satisfied' with Lakewood City Council; 39% have attended a City Council meeting during the past year.
The survey had limitations – only 7,700 residential landline phone numbers were available to call, out of a population of 25,274 households (2010 U.S. Census). All numbers were called, and 415 completed all or part of the survey, for a 5% margin of error at the 95% confidence level. Calling occurred from September 25 – October 8, during the hours of 1 -9 p.m. Mondays-Thursdays, and 11 a.m. – 5 p.m., on Saturdays. The survey design did not include questions about respondent gender, or whether they were registered to vote.

Shawn Salamone
Westsider and Public Information Associate at Baldwin Wallace University in Berea. Sharing the the stories of fascinating faculty, star students and amazing alumni who all hail from Lakewood.
Read More on Schools
Volume 9, Issue 23, Posted 4:33 PM, 10.29.2013