LHS Senior Earns Return Trip To National Honor Orchestra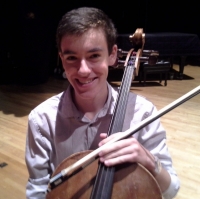 Lakewood High School senior cellist Danny Toner has been selected to perform with the National Association for Music Education's All-National Honor Orchestra, which will perform in late October in Nashville, Tenn.
This is Toner's second selection to the prestigious ensemble as he performed with the group his sophomore year as well. He will join about 63 other top-performing student musicians in the country to form this year's honors ensemble.
Toner will rehearse and perform with renowned conductors when he travels to Nashville on October 27 for three days of rehearsals capped off with a performance on October 30 as part of NAfME's Music Education Week. The National Honor Orchestra will be joined in that performance by the national honor ensembles for Band, Mixed Choir and Jazz Band.
Sophomores, juniors and seniors from across the country were eligible to audition and had to submit a two-minute audition piece. To be eligible to audition, a musician must also have been selected to his or her All-State Orchestra.
Although this is a return trip for Toner, he is still "super excited" to be part of it all again. Toner said the musical experience he gains is invaluable. "You really get to understand different conductor's styles. The conductors that are invited are always some of the top ones and most competent," he said.
Toner has his sights set on Vanderbilt University to continue his cellos studies. He also was invited to take part in a two-week cello festival at St. Olaf College in Minnesota this summer.
Toner's director, Beth Hankins, attributes his success to his talent, hard work and great family support. "The Lakewood community and Lakewood Orchestra program are so proud of Danny. We have never had a student participate two times. It is very hard to do," she said.
Read More on Schools
Volume 9, Issue 18, Posted 1:37 PM, 09.05.2013