Get Fit For Fall!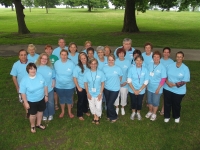 Feeling good about the time you spent being active outdoors this summer, but worried about slacking off now that days are getting shorter? Extend your walking season with Live Well Lakewood's Fit In Five Fall Walking Challenge, which begins on Wednesday, September 11th and continues for four additional weeks, through October 9th.
This Challenge steps off each week on Wednesdays from Horace Mann Elementary School gym, 1351 West Clifton. Enter the gym from the parking lot accessible off Webb Road, and come in the back entrance. We'll walk different parts of the neighborhood each week, starting at 6:30 p.m. The first walk is one mile; we add a half-mile each week until we reach 3 miles at the last session. Walk at your own pace with a map or fall in step with a person or group whose stride matches yours. Walk the whole distance or not—this is all about helping enhance your fitness at whatever level works best for you.
On September 11th from 5:30 p.m – 6:30 p.m. before the walk will be registration and free mini-health screenings. We'll do blood pressure readings, height, weight, & measurements. While you wait, you can nosh on healthy snacks. We'll do the numbers again at the end of the Challenge, and you'll see the progress you made.
Those who complete at least 3 out of the 5 sessions are invited to attend a celebratory Healthy Potluck on Wednesday, October 16th, 6:30 at the Women's Pavilion at Lakewood Park. The dinner is loads of fun, and the food proves that eating for your health is delicious and exciting.
Pre-Registration is requested, but not required. Our Walking Challenge is a FREE event.
Email info@LiveWellLakewood.org or call or call 216-529-7695 to sign up.
Come join us as we take advantage of our walkable community to enjoy a close-up look at our beautiful houses as we stroll by and enhance our health. You'll be glad you did!
Read More on Wellness Watch
Volume 9, Issue 18, Posted 1:37 PM, 09.05.2013