The Storm Of '69
Certain events, such as Sept.11, 2001, the Kennedy and Martin Luther King assassinations, or Hurricane Katrina, are so powerful they are defining moments for those who experienced them. For these events, many vividly recall details of the event years later. For longtime Lakewood residents, July 4, 1969 is such a day.
About 8:00 in the evening on that Independence Day, a sudden and powerful storm, known as a derecho, swept off Lake Erie into a crowd of nearly 20,000 at Lakewood Park. It was a tragic quirk of misfortune as this abrupt storm occurred at the busiest time of the busiest day at the busiest location in the City. A Hollywood horror movie could not have scripted such an ill-timed tragic event.
Channel 5 weather man Mark Johnson would write years later that the storm of July 4, 1969, "as Ohio weather history goes, was one of the top ten severe weather events ever."
That evening, as they have for decades, thousands of people of all ages arrived at Lakewood Park in anticipation of the grand fireworks display to celebrate America's 193rd birthday. They came by car, walked, or biked. They came in all ages with strollers, in wheelchairs, with coolers and blankets. As dusk neared, people searched for an open spot of grass to settle in and take in the program. Many recall local radio personality Wayne Mack was at the Lakewood Park bandshell serving as master of ceremonies. The park filled as the music played. According to a story written by Plain Dealer reporter Michael Heaton, a band composed of St. Ignatius high school students, Revolution, entertained from the bandshell. Master of Ceremonies Mack glanced at the gathering dark clouds over the lake and is reported to have humorously told the overflow crowd, "think dry."
Although it had been a hot and humid day, the weather was nothing out of the ordinary for summertime in northeast Ohio.
Rosewood Avenue resident George Kubas was a city employee stationed at Lakewood Park that evening.
"I started working in the water department of the City of Lakewood as summer help. Some time in the middle to end of June the regular City workers went on strike. They took all the summer help, put us on garbage collection and gave us a pay raise. As July 4th was approaching the City was looking for people to work the concert and fireworks. I signed up to work that day because the money would be pretty good and I was saving to pay for my college education".
Kubas, a 1969 Lakewood High graduate continued, "when I got to the garage behind city hall on the morning of the fourth, I was paired with an older guy with whom I played football at Lakewood High. We headed toward the park to begin setting up the chairs and getting the area around the concert stage prepared for the evening concert."
Kubas recalls having parked a "medium size" city flat bed truck near the north end of the bandshell.
"Shortly after the concert started you could feel the wind pick up and the temperature really started to drop. Looking toward the north, the clouds that moved in were very dark, all of a sudden what had been over the lake, those clouds came right at the park. The winds were strong, rain began to fall and you could hear the trees screaching against the wind. The band stopped playing and people were running to their cars," continued Kubas.
Kubas and his co-worker assessed the situation, "branches started to fall and you could see trees being uprooted. We headed toward the city truck and got into the cab as that was the only protection from the storm. I twisted my body under the front seat and my co-worker put his body over mine…we could hear the wind howling, branches cracking and trees falling around us." As Kubas recalls, he was terrified.
Summit Avenue resident Barb Zirke recalls attending a family picnic in Solon. "The sky turned pea green with pink lightning. My uncle drove us back to Lakewood….the lightning over the Shoreway was unbelievable …branch after branch after branch of lightning electricity. We dropped my mother's cousin off at her apartment building on Bunts Road. She had her rosary out and was praying the entire drive home. The windows at the grocery store (Krogers at the corner of Bunts and Detroit) were blown out and there were police everywhere".
School Board member Ed Favre recalls a "wall of clouds coming in off the lake as the storm approached."
Belle Avenue resident Terry Novak, home from college, was entertaining a former St. Edward High School classmates when the storm hit. "The sky started to darken and I looked down the driveway and saw the ominous black and green clouds. I said to the guys maybe we should wait before we start our trek to Lakewood Park. ..then the storm hit."
Meanwhile Barb Zirke, who is now a public school teacher, had navigated her way to the family home on Summit. "When I got home, my dad had made it over the trees and was home from work at U.S. Steel on Harvard. He listened to the battery radio in the kitchen in the dark, we heard someone had been killed at Lakewood Park. I found out later it was a classmate, Greta Schwartz."
As the high winds subsided, terrified eighteen-year old summer City worker George Kubas was curled on the floor of a city truck near the bandshell." He recalls, "I don't know how long we were in the truck, but at some point we felt safe to get out and survey the damage. I found out later that a high school classmate, Greta Schwartz had been hit by a falling tree and killed not far from where we had been."
It is reported that among those who attempted to save her life was LHS classmate Steve Henry.
The next day, fourteen-year old Dagmar Dolejs was identified as also being killed at Lakewood Park.
Greta Schwartz had graduated from Lakewood High when she was only sixteen. She had been a majorette in the Lakewood High School Marching Band and thoroughly enjoyed her role in leading the Ranger Band onto the field during football games and in other venues.
Young Dagmar Dolejs was one of five children of Woodward Avenue residents Anthony and Bernice Dolejs.
The sudden and powerful derecho ( or identified by some as a lake seiche) also surprised thousands at Cleveland's Edgewater Park where fireworks gazers and others, including many boaters, had congregated in anticipation of that City's July 4th fireworks celebration.
The storm's aftermath left three additional people killed at Edgewater, two more electrocuted from fallen power lines and four boaters drowned as their boats capsized during the storm.
In total eleven died at Lakewood and Edgewater Parks.
The accompanying rains brought between ten and fourteen inches of rain over the next two days, causing massive flooding in northern Ohio.
The Ohio Historical Society called the storm the "most devastating summer flooding in Ohio history." Statewide there were 41 storm related deaths, over 500 injured, 10,000 homes damaged and 104 small businesses destroyed. In addition, over 100 boaters were rescued by the Coast Guard. Reports were over 250,000 lost power according to the Historical Society.
Lakewood Park lost over 100 trees. The ensuing rains made clean-up difficult. Huge oak and maple trees fell on homes or blocked the streets. Clifton, Lake, and Edgewater Drive were nearly impassable as huge splintered tree limbs lay strewn across the pavement.
School Board member Favre recalls the W. 117th Street underpass at Madison was completely flooded.
City worker Kubas remembers, "...things were pretty chaotic initially, but then we got word that all the city workers had come off strike to help with the cleanup. Crews were assembled to handle the downed trees and power lines. I started working at noon and worked until 7:00 the next morning. That pay period I had 72 regular hours and 73 overtime hours, it was a big check I'll never forget," said Kubas, now a sports photographer.
Later in July of 1969, another transitional event occurred. On July 21st, American Astronaut Neil Armstrong became the first human being to land on the moon. Most Americans can vividly recall where they were when they first heard the grainy sentence, "...one small step for man, and one giant leap for mankind." The country and world celebrated man's achievement.
But in Lakewood, the residents were recovering from a long week without power and the storm's clearing had barely concluded. The City mourned the loss of two young lives.
Years later Terry Novak recalls, "I was a buddy of Tony Dolejs whose sister died when stuck by a tree limb at Lakewood Park…sad memories."
Of Greta Schwartz, said classmate Barb Zirke, "going to her funeral was one of the saddest things I've ever attended."
Both Lakewood teenagers, Greta Schwartz and Dagmar Dolejs were buried the same day at Holy Cross Cemetery.
You can reach Tom George at (440)734-8177 or TJGeorge1369@msn.com.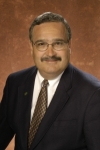 Thomas George
50+ years proud Lakewood resident BA Journalism, THE Ohio State University, Columbus, Ohio, general assignment reporter Ohio State Lantern daily newspaper active in civic and community affairs in Lakewood for many years
Read More on Historical
Volume 9, Issue 13, Posted 11:03 PM, 06.26.2013