Guilty Til Proven Innocent Premieres Locally April 28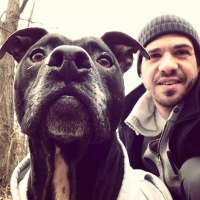 A documentary film, Guilty Til Proven Innocent, will have its world premier screening April 28 at the Capital Theatre in the Gordon Square Arts District of Cleveland. The film should be of interest to Lakewoodites as nearly one-third of the footage is from various Lakewood City Council sessions. The legislative body deliberated and ultimately passed an ordinance in 2008 banning Pit Bull dogs within city limits.
The 83-minute film, produced and directed by former Lakewood resident Jeff Theman, and edited by another former Lakewoodite, Bryan Porter, "examines the controversy of Breed Specific Legislation, chronicles Ohio's breed specific law from its inception, and uncovers the truth behind the misleading information of the most misunderstood dog…the Pit Bull," according to the film's promotional material.
Theman, owner of Cleveland-based video production company River Fire Films, is excited to premiere the film in Cleveland. "The concept of the film started just a few miles away in Lakewood, where a Pit Bull ban was proposed and passed," he pointed out. "It directly affected me as I was in the middle adopting my beautiful boy, Preston, during this time, and had to move out of the city I was proud to call home."
Ever since he was a young boy growing up in Lakewood, Theman loved the arts and animals—especially dogs. Joining his two passions together, Guilty Til Proven Innocent's genesis was initially in response to NFL quarterback Michael Vick's suspicion of dog fighting crimes in 2007.
"It morphed into a film based on breed discrimination after a city, in which I resided, proposed a ban of Pit Bull dogs," Theman said. "What Lakewood City Council proved to me on that day they supported a breed ban is they don't care about people like me who chose my dog because of an entirely different code of ethics than I do when deciding which 4 legged best friend I call my family," he added.
Guilty Til Proven Innocent chronicles the 25-year history of breed specific laws in the state of Ohio, from its inception in 1987 to its repeal in 2012. (Lakewood maintains a ban on Pitt Bulls, though.)
"For the film, we interviewed leading national and international experts in the fields of dog behavior, dog rescue and advocacy, and psychology," Theman pointed out. "And to be fair, we reached out to numerous people on the opposition of the debate to hear their point of views about the subject matter, which included the original Ohio State Senator and Ohio State Representative who passed the original bill to deem 'Pit Bull' type dogs inherently vicious at birth."
Lakewood Ordinance No. 58-08—the piece of legislation authorizing the Pit Bull ban—was passed on July 28, 2008. Council members at the time voting in favor of the ban were (now State Representative) Nickie J. Antonio, Kevin Butler (currently serving as Lakewood Law Director), Michael P. Summer (now Lakewood Mayor), Brian Powers (now Lakewood City Council President), Thomas Bullock (still Ward 2 Councilman) and Michael W. Dever (no longer on Council). The only dissenting vote was cast by Mary Louise Madigan, who remains on Council as Vice President and Ward 4 representative.
Guilty Til Proven Innocent will have one showing only at the Capitol Theatre (1390 West 65th Street, Cleveland) at 2:30PM on Saturday April 28. The film will also be shown in Seattle, Washington and Portland, Oregon in May.
Read More on Pulse of the City
Volume 9, Issue 8, Posted 9:37 PM, 04.16.2013