Orchestra Director Hankins Earns Yale Distinguished Educator Award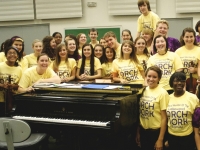 Elizabeth Hankins, director of the Lakewood High School orchestra program, has been selected as one of 50 music educators from across the country to receive Yale's Distinguished Music Educator Award and be invited to attend Yale University's 2013 Symposium on Music in Schools.
Hankins' letter of congratulations noted that "from a pool of nearly 300 nominees representing 45 states, you were chosen by our panel of music professionals for your outstanding accomplishments and vision as a public school music teacher."
"The Lakewood School District is very proud and honored to have Beth Hankins selected to receive the Yale Distinguished Music Educator Award," said Superintendent Jeffrey W. Patterson. "She is an accomplished master teacher with a great deal of passion and vision for the music teaching profession. It is nice to see her receiving such a high honor at a prestigious university."
Hankins wished to thank Assistant Superintendent, Dr. Kevin Bright, for nominating her for the award as well as "all my wonderful Lakewood students past and present who inspire me everyday to be a better teacher." She continued, "I am eager to sit with other distinguished educators in a form that invigorates thought and discussion. Having the opportunity to interact and learn from some of the world's most preeminent music/arts educators is a dream come true."
Educators chosen to attend the symposium have all expenses paid for the four-day event in New Haven, Conn., this June. The symposium will include two days of breakout workshops, discussions and an evening concert. Hankins will receive her award at a special dinner the final evening of the symposium. The symposium is held biennially as part of Yale's School of Music "Music in Schools" initiative.
Hankins conducts the String Orchestra, Philharmonia Orchestra, Symphony Orchestra, Chamber Orchestra and next fall will add a fifth orchestra, Camerata. She is the founding director of The Lakewood Project, an alternative and innovative rock orchestra. The Lakewood High School orchestras consistently participate in the OMEA State Orchestra Adjudicated Events receiving the highest rating of Superior.
Hankins has a Bachelor's in Music Education from Oberlin Conservatory at Oberlin College and a Master's in Education from Baldwin-Wallace College. She is currently pursuing a PhD in Music Education at Case Western Reserve University. In 2003 she was named the American String Teachers Association "Teacher of the Year" for Ohio.
Read More on Schools
Volume 9, Issue 6, Posted 9:12 PM, 03.19.2013