LHS Grad Bobby D Marks 35 Years As Tribe Executive
In February 1979 convicted bank robber and heiress Patty Hearst was pardoned by President Jimmy Carter. Ayatollah Ruhollah Khomeini seized power in Iran by overthrowing Mohammad Reza Shah Pahlav. The Cleveland Indians were eagerly anticipating the upcoming season with a quality lineup that included players such as Andre Thornton, Toby Harrah and Tom Veryzer, and in the front office Bobby DiBiasio began his career with the Tribe.
Thirty-five years later, DiBiasio, a 1973 Lakewood High School graduate, is Senior Vice President of the Cleveland Indians. His duties include being Team Spokesperson, Team Ambassador, head of the Indians Alumni Association and President of Cleveland Indians Charities.
Said DiBiasio, "I cannot imagine growing up in a more perfect setting than Lakewood, Ohio…I was born in 1955 and graduated from LHS in 1973..it has been said many times before, we lived in a community where everyone knew each other and everyone cared about one another. Fondest of memories was of riding our bikes from one end of town to the other - a baseball game in the morning, a softball game in the afternoon and a basketball game in the evening. My first job was as a scorekeeper at the High School Field with Bob Wonson as the umpire. Riding bikes to Lakewood Park pool after our games. We would leave early in the morning, play sports all day long- then head home when we got hungry."
Prior to joining the Indians in February of 1979, "Bobby D" worked for the Fremont News-Messenger. DiBiasio, like his two older brothers, completed his undergraduate studies at Ohio Wesleyan. He achieved his Masters in Journalism from Ohio State University in 1978.
"The most remarkable aspect of this job is the close friendship I have nurtured with so many players I grew up idolizing as a kid in Lakewood. To consider Sam McDowell, Larry Doby, Jr., Gary Bell, Jim (Mudcat) Grant, Davey Nelson, Max Alvis, Herb Score and Bob Feller…..to consider these gentlemen friends, guys I grew up rooting for…is special," said DiBiasio.
"There is a long list of guys who I've had the privilege of working alongside. Early in my career, Duane Kuiper, Joe Charboneau, Rick Manning, Lenny Barker, Rick Sutcliffe..the middle of my career Joe Carter, Pat Tabler, Tom Candiotti and that group in the mid 80s and then the 90s guys with Charles Nagy, Carlos Baerga, Sandy Alomar Jr., Kenny Lofton, Omar Vizquel..and this current group has some fun guys…but the group from the 90s, because of the winning and how we turned the town upside down, has to be the top of the list," reflected Bobby D.
After 35 years DiBiasio has many, many behind-the-scenes stories.
Fan favorite shortstop Omar Vizquel was, according to Bobby D, a "renaissance man." "Artist, musician, fashion-ista…he would paint at the ballpark," said DiBiasio.
"Charles Nagy always visited the children's hospitals in town - and rarely said anything to us about it…I learned of his visits through the hospital PR people," said DiBiasio.
"Most players engaged in charity work and wanted to do so without any fanfare..which is tough for a PR guy who begged them to talk about it," lamented DiBiasio.
"Bert Blyleven was one of the funniest guys ever in the clubhouse…really took it upon himself to make sure the clubhouse was a fun place, to lessen the stress and pressure that comes with being a professional athlete. Manny Ramirez was like that as well--a fun loving guy. Vinnie Pestano may be that guy today," said DiBiasio.
DiBiasio has a special fondness for the Indians Fantasy Camp, held every winter for fans who "hold baseball in a special place." The connection of generations is one of the four guiding commitments of the Indians organization.
DiBiasio's father, of course, was a long-time teacher, coach and administrator at Lakewood High School. There is a street sign at the corner of Bunts and Franklin proclaiming the intersection as "Tony DiBiasio Square."
"And I cannot imaging growing up with two better parents…I owe everything I've achieved to my mom, dad and two older brothers. The values that we hold dear, I learned from them--respect, doing the right thing, equality, courage, community, self-expression, love, opportunity."
Like many successful individuals, DiBiasio is eager to "pass it forward." His advice for those in college considering a career in sports management? "Take advantage of all that is available on the college campus. Work with the Athletic Department--in operations and event management, marketing, communications…get a taste of all disciplines to see what fits your personality and skill set. And read about the business of sports to keep current on trends in the industry. Sports Business Journal is the best way to do that," said DiBiasio.
For outside interests to a person employed in the sports industry, DiBasio says, "I'm a golf nut." He also likes to travel--"...we like Vegas," he added.
Bobby DiBiasio carries his family values and Lakewood values with him each and every day. 35 years and going strong…Go Tribe!
Tom George can be reached at 440-734-8177 or TJGeorge1369@msn.com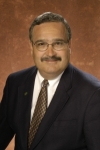 Thomas George
50+ years proud Lakewood resident, BA Journalism, THE Ohio State University, Columbus, Ohio, general assignment reporter Ohio State Lantern daily newspaper active in civic and community affairs in Lakewood for many years
Read More on Historical
Volume 9, Issue 3, Posted 9:58 PM, 02.05.2013