Thank You, Huntington Bank!!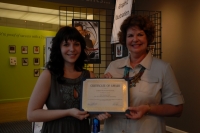 Fashion merchandising student Ms. Suzanne Hall was the recipient of the 2012 Huntington Bank Scholarship given through the Virginia Marti College Foundation.
Suzanne is a student at Virginia Marti College of Art & Design and has received this award for her outstanding diligence as a student and her tireless involvement within our community. We are grateful to Huntington Bank for their ongoing support toward education and their commitment to helping our youth and rewarding them for their hard work and dedication.
Suzanne writes in her application, "Cleveland is my community. I want to live here and I chose to attend college here because I want to improve the success of the city on a national scale. To do this I am always looking for new opportunities to serve those in need; thus I've learned and discovered not only more about the world, but also more about myself. I have also learned never to take anything for granted, because everything is subject to change. Hopefully with this wisdom I can change my future and the future of our city for the better."
Marlene Kobzowicz
Executive Director of The Virginia Marti College Foundation
Read More on Features
Volume 8, Issue 22, Posted 1:55 PM, 11.01.2012