Screw Factory Artists' 5th Annual Open Studio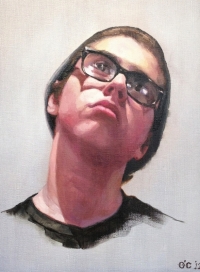 This year marks the 5th Annual Screw Factory Artists' Open Studio. In 2008, ceramicist and new tenant Gina DeSantis began organizing two yearly events. A year later, tenant Kathy Patton of Cleveland Handmade brought the Last Minute Market to the building, solidifying the former factory as one of the biggest shopping and art exhibition destinations in the Cleveland area. This one-day event will showcase the work of over 30 resident artists and 20 visiting artists, plus local vendors including the Sweet Spot and the Fired Up Taco Truck.
Open studio exhibitions are held three times throughout the year (the first Saturdays of November and May and the Last Minute Market on the Saturday before Christmas, December 15th). The 5th Annual Open Studio will be held on Saturday, November 3rd from noon to 7 p.m. The event is free and open to the public.
Get the jump on holiday shopping while supporting local artists and businesses. The artists in the building represent a broad range of media including (but not limited to) glass, ceramics, sculpture, fiber arts, mixed media, painting and printmaking.
Participating studios include Ann Caywood Brown, Kristen Cliffel, Martha Cliffel, Teresa Crompton, Sarah E. Darby, Gina DeSantis, Design Culture Cleveland, Robb Durr, Forest City Portage, Megan Frankenfield, Valerie Grossman, Derek Walter Grubaugh, Katie Hanrahan, Humble Bee Vineyards, Phyllis Kohring Fannin, Marc Konys, Sandy Millman/Yours Truly Vintage, Michelle Mowery, M.C. Nagel, Martin E. O'Connor, Shannon Okey, Kathryn Patton, Daniel Pruitt, Ryu Sakebi Studio, Karen St. John Vincent, and Achala Wali.
Visiting artists include Lise Anderson, Sue Bevis, Gene Epstein, Richard Schneider, Kim Schoel, Ruth Sholtis Furyes, M. & N. Spotts, Kristen Sutcliffe, Terra Verde Handmade, Bart Vrtunski, and Theresa Yondo.
The Templar Motors Car Factory Display will be open as well. Lakewood, Ohio's only automobile manufacturer from 1917-24, the Templar Motors Car Factory Display is located on the third floor of the Original Templar Motors Car Factory Building.
New to the Screw Factory this year is Humble Bee Vineyards (second floor), Lakewood's first and only winery, who will be opening their doors to showgoers and providing their award-winning meads for tastings and purchase. Make sure to stop by their wine bar and take a bottle home--$5 for a glass or $15 for a bottle.
In addition, a variety of local businesses and organizations are joining the artists. They include Art House, Coffee for a Cause, the Friends of Madison Park, Fresh Fork Market, the Sweet Spot and the Fired Up Taco Truck.
Please direct all open studio questions to event organizer Gina DeSantis at artzy_grl@yahoo.com. Visit www.screwfactoryartists.com for more information.
Gina DeSantis
Gina DeSantis resides in Lakewood and has a ceramics studio at the Lake Erie Building. She teaches out of her studio and for Art House and the Orange Art Center. In addition she helps organize 3 open studios yearly with the Screw Factory Artists.
Read More on Arts
Volume 8, Issue 22, Posted 1:55 PM, 11.01.2012