National Writing Winner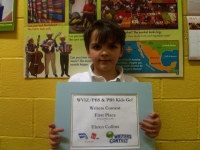 Ehren Collins, a resident of Lakewood and a second grade student at Birchwood School, entered the PBS Kids Go! Writers Contest during the 2011-12 school year. In May his story, Tacky Turkey's Big Adventure won first place locally and in early September it was awarded 3rd place in the nation in the first grade division. This witty story tells of a Pennsylvania turkey that travels to a friend's home in Ohio and mistakenly finds himself in Texas. Fortunately, a friendly moose is willing to mail him to his desired destination.
The participants were required to write an original story ranging from 50-200 words and illustrate their work. Ehren kept to the word limit of the contest but was inspired to write a sequel. "In the second book Tacky the Turkey travels to the Olympics in London!" Ehren says with a wide grin, as he launches into details about the turkey's second adventure.
PBS Kids Go! Writers Contest is a national contest designed to promote the advancement of children's reading skills by encouraging students in kindergarten to third grade to create original illustrated stories for submission. The national winners were selected by a prestigious judging panel including Grammy Award nominated singer-songwriter Jewel; acclaimed children's author and illustrator Mo Willems; and two-time Children's Book Award author and illustrator, Jarrett Krosoczka.
When asked about Ehren's accomplishment Rhonda Sprau, language arts teacher at Birchwood School, said, "Ehren showed a lot of initiative by taking on this competition. His book combines writing strategies learned at school as well as a lot of brainstorming and hard work at home. We are proud of his success at the local and national level." To view the winning story: http://pbskids.org/writerscontest/contest-2012-winners.php
Cindy McNaughton
I am a wife and a mother of three school aged children. I have lived in Northeast Ohio most of life and enjoy raising a family here. I teach physical education classes and serve as the Director of PR & Marketing at Birchwood School in Cleveland.
Read More on Schools
Volume 8, Issue 22, Posted 1:56 PM, 11.01.2012