Laskey Costello Officially Opens With Ribbon Cutting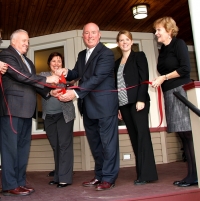 Nearly 100 clients, friends, neighbors and city officials attended a ribbon-cutting ceremony and open house at Laskey Costello, LLC, on Thursday, October 18, at the company's new home at 15514 Detroit Avenue.
"Thank you for re-investing in Lakewood," said Mayor Mike Summers. "You've made a significant investment in relocating your company here and refurbishing this property, and we appreciate your confidence in the city."
Attendees toured the newly renovated three-story office which had previously housed Revelations Salon & Spa. Brennan's Catering & Banquet Center provided heavy hors d'oeurves and refreshments.
Laskey Costello, formerly Laskey CPA, was founded by Lakewood resident Timothy P. Laskey in 1985 and had been located on Madison Avenue since 1991. Lakewood attorney Maria L. Shinn purchased that property in December 2011. The firm's name changed to Laskey Costello when Cynthia M. (Cindy) Costello, Tim's youngest daughter and a CPA, became a partner earlier this year.
"Our business is growing, and we needed more room," said Laskey. "We have deep roots in Lakewood and wanted to stay here. It's a great city to do business in."
Laskey Costello has nine employees and offers a full range of accounting services, from tax preparation and small business consulting to estate tax planning. Tim Laskey is a long-time volunteer in many civic organizations, including the Lakewood Chamber of Commerce, Lakewood Alive and the Lakewood Historical Society. He also is treasurer of the Lakewood Public Library.
Learn more at www.laskeycostello.com.
John Murphy
John Murphy is president of The Murphy Agency, a marketing and public relations firm that promotes businesses and economic development.
Read More on Business News
Volume 8, Issue 22, Posted 1:55 PM, 11.01.2012