Lakewood Council Of PTAs Announces Fundraiser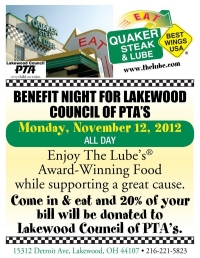 Lakewood Council of PTAs is revving up for a fundraiser to benefit Council programming on Monday, November 12, 2012 at Quaker Steak & Lube!
Quaker Steak & Lube will donate 20% of your bill to Lakewood Council of PTAs for meals purchased all day on the 12th. Simply present your server with the flier pictured, and enjoy!
Lakewood Council of PTAs exists to promote the welfare of children and youth in their homes, schools and community. The Council meets monthly with District representatives from the elementary school level up to the School Board, to discuss school and PTA news, relay community concerns related to the schools, and to plan events and programs to further its mission.
You may not realize all that the Council of PTAs sponsors. Best known in Lakewood is the District-wide Reflections art contest. However, in addition to this beloved program, Council also offers parent education programming; the "School at the Cinema" documentary series with Lakewood Public Library; and in the spring, awards scholarships to Lakewood High School and West Shore Career Tech students. Soon, Council will oversee a District-wide coat collection program to further help students in need.
Show your support for Lakewood Council of PTAs and enjoy some hot wings or any of the Lube's other great food on Monday, November 12. And thank you in advance!
Read More on Schools
Volume 8, Issue 22, Posted 1:55 PM, 11.01.2012