Ghosts? Goblins? Zombies? How 'Bout Something REALLY Scary? (Coy)wolves at our doors? Nice doggies? Possibly not...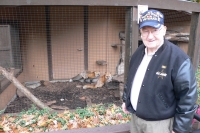 As if there weren't enough stuff going on to cause concern these days, here's a story worth chewing on your bones. Perhaps we can now add being eaten alive by (coy)wolves to our list of urban hazards?
Not so long ago, a friend told me about an incident transpiring at another friend's home in Rocky River. Seems there was a large trail of blood leading into the backyard. That trail ended with a deer carcass that had apparently been brought down by coyotes.
Shortly thereafter, a curious coyote, peeking around the edge of our Lakewood home, greeted Dad as he got out of the car. I've also heard of a number of other sightings and seen photos of snow tracks last year around Lakewood, and in fact, I was present in Lakewood Park on a Veterans Day when a big and brazen red fox decided to share space with our former men in uniform. (I do know that a fox is not a coyote, of course. I am from Pennsylvania.)
I bounced a few questions off several in-the-know people in this area about coyotes, and that led to learning that while there are probably less than 30 breeding pairs around our western suburban and park areas, they are nonetheless prolific breeders. And while they normally are quite shy and mainly go after small rodents, there apparently are strains of coyote that have interbred with wolves or dogs, and they can and will go after bigger game and even hunt in packs. They do love to come into our urban areas as well, as do many formerly woodland animals as they acclimate more and more with us. Coyotes around here are also generally a good deal larger than many, so wolf or dog genes may well be a part of their makeup, although there are few definitive facts to go on, as these critters are primarily nocturnal and normally elusive.
I should point out, however, that there was a well-publicized killing of a Canadian folk singer by several coyotes not long ago. I've also heard some advice that, in the case of an aggressive animal, you aren't normally supposed to try to run away, but to stand and yell and gesture at them instead. That might be a good idea, but just thinking about that kind of encounter would certainly be difficult for me to do. Still, you probably couldn't outrun them anyway, so there it is.
Normally shy and solitary coyotes are apparently made much less so when they interbreed with wolves, and of course also when they get hungry. They tend to go wherever they find food, and Lakewood has LOTS of food around. Coyotes love to scavenge too, so if you wonder what happened to that poor road-killed squirrel carcass in front of your home last night? Now you know.
As if our poor little living squirrels, bunny rabbits, cats, and dogs didn't have enough to worry about already... I do however have it on good authority that a coyote will generally leave your favorite raccoon alone, for obvious reasons. You do not mess with an angry raccoon if you are wise. Many years ago in our backyard, there was a loud clang (back when garbage cans were metal). Looking out the window, my dear late mom saw a raccoon emptying our garbage can, so out she went, barefoot with a broom. As she attempted to persuade the beast to leave, it reared back on its haunches and bared its teeth. As the rest of our family stood open-mouthed and gasping, Mom indeed finally won the day, and the raccoon retreated.
There are good people around Lakewood who want to allow outdoor chicken coops here to promote responsible urban farming. I imagine that if we asked our fox, coyote, and raccoon friends, they too would very much want urban chickens to return (although to be fair, there are reportedly good varmint-resistant chicken coops out there). I remember well that old expression that I learned as a Western Pennsylvania child about what could happen when you let the fox into the hen house. At least foxes have not been known to bring down deer, but that said, I was informed that actually, many of our foxes have skedaddled out of here lately, because coyotes are way bigger than foxes. And in nature, size generally rules the roost...or in this case, the den.
Just some musings here on a rainy Saturday to cheer you up as you all go off to Lakewood's markets with your picnic baskets, perhaps while wearing those little red riding hoods. Don't worry, though. No one's been eaten alive around here that I know of...yet. In fact, so far I've not heard of anyone even being bothered around here by any of these wild and shaggy mixed-breed canidae cousins of your sweet little poodle.
That said, when that coyote looked at Dad, he did appear to be somewhat...hungry. (The coyote, that is.) Dad, however, had lost his appetite.
Sleep well tonight, and if you hear any strange sounds going on under your front porch, it's probably just those Halloween winds howling...
Read More on
Volume 8, Issue 22, Posted 1:55 PM, 11.01.2012