Rare Volumes: What Makes An Old Book Valuable?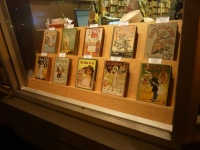 When my parents moved into their Lakewood home it came complete with a wall of built-in bookshelves that housed editions of old, leather bound-classics, from Shakespeare to Walt Whitman. I loved these artfully made books growing up. Although these books are beautiful, they are not worth much more than the memories they contain. Now, like many a book loving adult, as I visit used book stores, garage sales and thrift stores, I can't help but wonder when I come across an old book if I am holding something that might be worth more than the $5 sticker price.
After a half-century in business, Cleveland's Zubal Books has become one of the largest and most respected antiquarian and rare book dealers in the country. Michael Zubal himself will reveal the secrets of what makes some treasured texts rare and valuable and others old junk. His straightforward expertise and precision sense of humor will make for a fascinating and enjoyable, though not-necessarily-lucrative, evening for book lovers of every stripe. Rare Volumes: What Makes an Old Book Valuable will be held at 7 p.m. on Thursday, October 25 in the Main Library Auditorium.
Established in 1961 by John T. Zubal, Zubal Books offers an outstanding selection of used and antiquarian titles. This Web site provides access to one of the largest collections of out-of-print titles available on the Internet.
The Zubal Books warehouse maintains nearly 5,000,000 volumes of scholarly and rare books in the fields of Literary Criticism & Biography, History, Philosophy, Science, Anthropology & Archaeology, Religion, Historiography, Linguistics, Occult and Fiction. For more information visit www.zubalbooks.com.
For a complete listing of all events at Lakewood Public Library, visit www.lakewoodpubliclibrary.org/calendar.
Read More on Library
Volume 8, Issue 21, Posted 5:44 PM, 10.16.2012