Local Musician Set To Electrify The Lube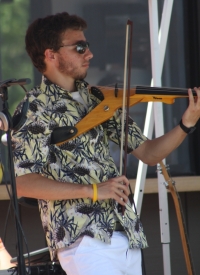 Friday evening, October 26, 2012 at 9pm; Lakewood's own Kent Dockus kicks off his fall/winter schedule and takes the stage at Lakewood's new Quaker Stake and Lube. "... the Ohio State Fair was a great place to play, but I'm thrilled to be playing here in Lakewood, especially at the Lube. I enjoy their burgers and wings, and now I have a chance to have them enjoy my music. No doubt it'll be a fun night!" said Kent when he accepted the invitation.
Accompanied by his Viper (electric violin) and a series of foot pedals, the Lube audience will enjoy music from the 60's to today, and a few originals tossed in for fun. But be sure, even though you may know the music, you may have not heard it played quite like this.
If you like the Trans-Siberian Orchestra, Mark Wood, Tracy Silverman... or just great music, then you'll enjoy this. With his pedals and Viper, Kent creates orchestra instruments as "backing tracks." The key word here is "creates," as it's all done live. Kent arranges his music to ensure the audience has a good time and works to play what they like to hear.
To make the night complete, Kent would like to extend a special invitation to (Lakewood) Mayor Summers and his staff, as well as Principle Curtin of Hayes, Dr. "G," Gary and Mr. Rice and others. Mark your calendars for October 26 and come to the Lube for great music and great food.
Visit www.kentdockus.com for more information.

scott dockus
Lakewood resident, owner of Lapstrake Marketing Communications and manager of Kent Dockus, Twin Engine and director of "Rockin' the Fair Fest" and the "Night in Bethlehem."
Read More on Entertainment
Volume 8, Issue 21, Posted 5:44 PM, 10.16.2012