Hoops Rebound At Lakewood Park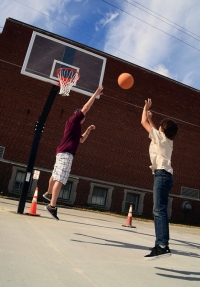 Lakewood youngsters rejoiced at the sight of freshly installed basketball hoops on Friday, October 11th as the Lakewood Outdoor Basketball Committee (LOBC) added its second location to Lakewood Park.
Although the hoops were recently installed, additional construction will take place at the Mark Vincent Dickens (MVD) Memorial Courts. "The plan is to stripe and line the courts early next week" states Stephanie Toole, co-founder of the LOBC. "The second phase will include the installation of the pavers, fencing, and a custom bike rack in front of the basketball courts" states Toole.
The path for the progress of outdoor recreation in Lakewood was never easy for the LOBC. Controversy surrounded the installation of the Lakewood Park basketball court after City Hall requested additional funds for the completion of the $30,000 project. City Council leadership questioned any City funding, leaving LOBC in dire economic straits. At that point, the group reached out to their base of donors and retrieved another $5,000 to get construction rolling. To date, the new courts at Lakewood Park are being paid for completely with donations from the public-- no funding from the City.
Thus far, 270 residents and Lakewood businesses have donated to the basketball courts at Lakewood Park. "We have received overwhelming support from residents, and we are extremely proud of our fellow residents and business owners" states Toole.
With the hoops installed and intact, the LOBC is still seeking funds to fully complete the project.
For more info or to donate, go to lobc.org, or find them on Facebook.
How can you help?
The high-quality hoops on a freshly-paved playing surface at MVD Memorial Court will be surrounded by a walkway built with personalized bricks containing the names and/or messages of supporters like you. You can purchase a brick (three different sizes available: $100, $500, $1,000) by downloading the order form from the Lakewood Outdoor Basketball Committee website or by stopping by Harry Buffalo (18605 Detroit Avenue) to pick up a form. Can't afford a brick? No problem. Donations of any amount will be gladly accepted. Your support demonstrates to the kids of Lakewood that you truly care about them!

About Mark Vincent Dickens
Mark was born in Lakewood and graduated from Lakewood High School in 1996. Like many young people in Lakewood, he grew up playing basketball in Lakewood Park for countless hours after school and throughout the summer. Just as they affected many other kids growing up in Lakewood, the courts were a large part of Mark's upbringing. Many of his long-lasting friendships and bonds were formed there. In 2009, after a two year battle with testicular cancer, Mark passed away one month short of his 30th birthday.

City Support
Mayor Summers, as well as six of seven members of City Council, have officially endorsed our plans to construct the new hoops at Lakewood Park.

About LOBC
The Lakewood Outdoor Basketball Committee is a local non-profit organization that was started by Lakewood residents to help bring public outdoor basketball back to our city. LOBC is dedicated to making free outdoor recreation available to all of our residents once again.

Recreational basketball reaches far beyond "letting a kid be a kid."
Your support provides many benefits for the youngsters LOBC serves:
- Social benefits: how to cooperate, how to follow directions; and how to respect for others;
- Psychological benefits: critical thinking, problem solving, and self-discipline;
- Physical benefits: fights childhood obesity (which has tripled in the past 30 years).
Read More on Sports
Volume 8, Issue 22, Posted 5:37 PM, 10.16.2012