H2O's Pumpkin Palooza Returns Saturday October 27th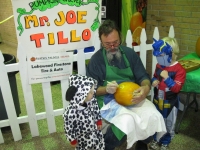 The great Pumpkin Palooza is coming soon to Lakewood High School! Bring the whole family on Saturday October 27th, 1:00-4:00 p.m., for carnival games, crafts, storytelling, the Haunted Hallway, raffles of original, one-of-a-kind artist designed pumpkins, food, and more.
The fun kicks off at 1:00 pm with carnival games and crafts in the East Gym provided by H2O "Help to Others" volunteers, LHS student organizations and Lakewood Early Childhood professionals. Pizza and treats will be available in the Harvest Café across the hall in the L-Room. On the way to the Pumpkin Patch in the East Cafeteria, take a stroll through the "not so spooky" Haunted Hallway, and stop in at the Sleepy Hollow for a story provided by Lakewood Public Library. And don't forget to register for the annual parade of costumes, which will begin at 2:00 p.m. (No masks, please!)
Beautifully decorated pumpkins will be on display in the Pumpkin Patch and will be raffled off for the lucky winners to take home. This year's Pumpkin Patch will feature a display of pumpkins telling the tale of The Odyssey, created by students of Lakewood High School English teacher Chris Overholt. Guests will be encouraged to stroll through the display, reading the students' interpretations of Odysseus's adventures.
All local artists, businesses, organizations and individuals are invited to donate a decorated pumpkin (or two) to be part of the raffle. Pumpkins should be decorated, not carved, to ensure they last as long as possible. Pumpkins can be dropped off in the East Cafeteria of Lakewood High School on Friday October 26th, 3:00-5:00 p.m., or on Saturday October 27th, 10:00 a.m. - 12:30 p.m.
H2O "Help to Others" began this favorite Lakewood family tradition as a celebration of "Make A Difference Day," one of the country's largest days of community service each year. The generosity of volunteers and sponsors make this event possible and all proceeds go to benefit Lakewood Charitable Assistance Corporation, Lakewood Community Services Center, and H2O. In addition, attendees are encouraged to bring a canned food item to support local hunger relief efforts.
Pumpkin Palooza is brought to you by H2O "Help to Others," The City of Lakewood, Lakewood City Schools, Lakewood Hospital, Lakewood Public Library, Lakewood Non-Profit & Civic Organizations, LHS Student Organizations, Lakewood Early Childhood Professionals, and the generosity of Pumpkin Palooza sponsors.
Read More on
Volume 8, Issue 21, Posted 5:44 PM, 10.16.2012