Lakewood Alumni Foundation Honors 10 Hall of Famers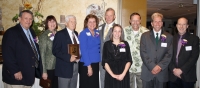 What do the inventor of the GPS, a 72-year-old champion weightlifter, and a middle school education innovator have in common? They're all superstars of the Lakewood City Schools.
Sweetwater Landing hosted a school reunion Thursday night as more than 100 people gathered to honor the achievements of Lakewood Schools staff, athletes, and distinguished alumni at the annual Lakewood Alumni Foundation Hall of Fame celebration. Ten people were inducted on September 27: two staff, four athletes, and four distinguished alumni.
Lakewood High School teacher, Carol Good Dolgash, taught Spanish for 31 years, led several student trips abroad, and served as a leader in both her field and as chief negotiator for the Lakewood Teachers Association. Robert Hayden, principal for all four middle schools, was on the forefront of education by creating innovative curriculum for low-performing students, establishing parent-teacher conferences, and helping the 8th grader's transition to high school.
Three record-breaking Lakewood athletes and one coach were inducted to the Hall of Fame. Dr. William O'Reilly, class of 1978, was a track star at Lakewood High School and the University of Michigan and still holds LHS's one-mile record. Rick Ventura coached the cross country program at LHS for 24 years and never failed to have top regional and state finishers during his tenure. Albert Wycoff, class of 1954, was a member of the 1953 state champion cross country team and continued his athleticism after graduation by becoming a nationally ranked weightlifter. Rachel Zubricky, class of 2003, garnered 10 varsity letters in a variety of sports and was a state champion in track.
Four distinguished alumni have established themselves as leaders in their professions and communities. Katherine Hahn Asbeck, class of 1975, was a senior manager at PricewaterhouseCoopers and senior-vice president of finance at Corning Incorporated. She recently returned to the Cleveland area to serve as The Cleveland Foundation's CFO. William Brown, Jr., class of 1939, was honored posthumously for his work developing stress-resistant steel for the Department of Defense and NASA. William (Biff) Folberth III, class of 1962, was the first Lakewood student to study abroad as part of the American Field Service-USA program. Biff is the founder of a successful Wall Street firm, The Capital Group, and devotes much of his free time supporting community organizations. Edward Martin, class of 1951, was instrumental in the development of the Global Positioning Satellite (GPS) system through his work for Rockwell International Corp. and Magnavox Research Lab.
Thanks to the generosity of hundreds of donors, Lakewood Alumni Foundation has distributed significant funds to support Lakewood City Schools and to help its students reach their potential. Our mission is to uphold the Lakewood City Schools' tradition of providing an opportunity-rich environment for its students through financial support and advocacy. To learn more about the foundation, visit our website at www.lakewoodrangers.com.
Read More on Schools
Volume 8, Issue 20, Posted 8:58 PM, 10.02.2012