Hen Hopeful: Allison Welch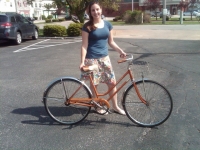 Here is a biography of another Lakewood neighbor hoping to responsibly keep hens. This interview was compiled by the Hens in Lakewood committee.
What street do you live on? Orchard Grove
How long have you lived in Lakewood? I just bought my house in February. I rented for a year before that.
Why do you choose to live in Lakewood? I love Lakewood because I can ride my bike everywhere and there is always something to do. The library is awesome, there is always live music and I still haven't tried all the different restaurants. I love that I can get all of my needs met at the local businesses instead of big chains. Until a month ago, I didn't even own a car.
Why do you want to raise hens in Lakewood? Chickens are hilarious. They each have their own distinct personalities. They were basically my main source of entertainment when I was in the Peace Corps in Nicaragua. Also home-raised eggs taste amazing and they say they are healthier than the ones you buy at the store.
Why do you think Lakewood is a community that should allow responsible hen keeping? Lakewood is a pretty progressive community that seems to embrace local, sustainable living. We are bike friendly. We have community gardens and farmers' markets. It only makes sense to allow people to responsibly raise hens. It was a big disappointment to find out I wasn't allowed to raise hens when I bought my house. Really it's not a big deal, they don't cause a lot of problems if you do it right.
Do you want to mention anything else? I've already picked out the names of my first hens: Loretta, Harriet, and Wanda.
Read More on Civic Groups
Volume 8, Issue 21, Posted 8:58 PM, 10.02.2012