Beck Center Presents Dance Master Classes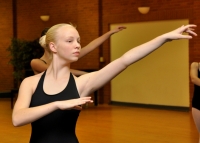 Beck Center Dance Education presents two dance master classes in October. The first will be led by Kapila Palihawadana, artistic director of nATANDA Dance Theatre of Sri Lanka on Thursday, October 4 from 6:45 to 8:15 p.m. in the Recital Hall of Beck Center's Music-Armory Building.
This master class includes a warm-up session, yoga exercises and exploration of rhythmic moves and improvisation. Dance experience is preferred. There is no charge for this class but students must register by emailing Melanie Szucs, Beck Center's Associate Director of Dance Education, at mszucs@beckcenter.org, including the student's name and contact information, with "Master Class" in the subject line.
Kapila Palihawadana is in residence with Inlet Dance Theatre through November as part of the Cleveland Foundation's Creative Fusion International Artist Residency Program. He studied traditional dancing in his native country of Sri Lanka, was the principal male dancer of the Channa Upuli Performing Art School and has toured India and Germany. As a choreographer, Kapila creates an innovative dance style blending traditional dance elements with western dance techniques. He holds a Bachelor of Arts degree from the University of Kelaniya, is one of the principal dancers of Oosha Garten Ensemble and has performed as a Kandyan and modern dancer.
Inlet Dance Theatre will perform a dance concert featuring work by Kapila Palihawadana on Friday, November 16 at 7:30 p.m. at the Hanna Theatre at Playhouse Square. Tickets are $10 and may be purchased online at playhousesquare.org or by calling 216.241.6000.
The second master class will be held on Monday, October 15. The Dance Alliance of Beck Center presents an Intermediate Ballet master class with Christina Hudson of Ballet Magnificat! from 7 to 8:30 p.m. in the Recital Hall. The cost is $15 per student. For more information or to register for this master class, please call Melanie Szucs at 216.521.2540, ext. 26. Students may also register the day of the class beginning at 6:30 p.m. in the lobby of Beck Center's Music-Armory building.
Christina Hudson trained at the Ballet Magnificat! School of the Arts Professional Training Division. She received further instruction and a full scholarship to the USA International Ballet Competition School and American Ballet Theater Summer Intensive. Hudson has been a member of Ballet Magnificat's Alpha Touring Company since 1996.
Beck Center's Dance Education program is one of the most comprehensive and well-respected in Northeast Ohio. Students train with highly qualified, caring dance instructors who have a combined 257 years of experience in the classroom. Programming is available for early childhood students, youth, teens, and adults. Beck Center offers age-appropriate early childhood classes in Preschool Dance, Preballet and Boys Dance, which foster a love of movement and build confidence, coordination and creativity. A comprehensive program for youth and teen students includes seven levels of Ballet, four levels of Contemporary, two levels of Hip Hop, five levels of Jazz, four levels of Pointe, and four levels of Tap. Classes exclusively for adults are offered in Ballet, Contemporary, Hip Hop, Jazz and Pointe, as well as our health and wellness programs Gyrokinesis® and Tone & Stretch.
Located at 17801 Detroit Avenue in Lakewood, Beck Center for the Arts is a not-for-profit 501(c)3 organization that offers professional theater productions, arts education programming in dance, music, theater, visual arts, early childhood, and creative arts therapies for special needs students, and gallery exhibits featuring local, regional, and international artists. For more information, visit beckcenter.org.
Read More on Arts
Volume 8, Issue 20, Posted 8:58 PM, 10.02.2012